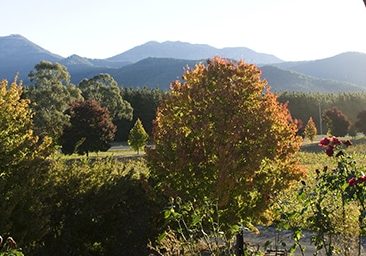 High Country wine regions
From gentle slopes to rich low plains, from multi-generation family vineyards to innovative young winemakers, the North East has a diversity and abundance of exceptional wine across six wine regions: Alpine Valleys, Beechworth, Glenrowan, King Valley, Rutherglen and Upper Goulburn.
The King Valley is home to a passionate group of first, second and third generation Italian migrant families, producing Mediterranean inspired varietals such as sangiovese and pinot grigio. The Pizzini nebbiolos are benchmarks for the grape in this country and since the Dal Zotto family released Australia's first sparkling prosecco in 2004 the region has been synonymous with the style.
Rutherglen's low land and long, dry autumns, combine to create perfect conditions for their rich reds. Their durifs and range of fortifieds are famous on the world stage, with many awards and accolades held by the various wineries. Winemakers are playing on new takes of the old classics with some more refined styles of durif and exciting innovations with their delicious muscats and topaques.
The long, moderate growing conditions produce high quality grapes with intense fruit flavours and natural acidity, the perfect cool-climate wine. Following a trail of friendly cellar doors in our Alpine wine region, visitors can experience the rich velvety reds, crisp elegant whites and sensational sparkling wines grown and made in these pristine mountain valleys. With Bright in the heart of this growing region you can be assured of a fine meal to go with those wonderful whites.
Around the time Ned Kelly was on the way to becoming infamous in the Glenrowan region, folklore has it that he was assisting the Bailey family to plant their first grapevines as a fencing contractor. The ensuing 130 years of winegrowing have established Glenrowan's reputation for full-bodied reds, particularly shiraz, fragrant whites and deliciously renowned fortified wines. The wines of Glenrowan today remain robust, with modern ways adding sophistication. This wine region's cellar doors are intimate, historic and welcoming.
Dotted throughout the mineral-laden hills of Beechworth are two dozen vineyards. They are mostly tended by family winegrowers with a fierce independence and passion for making the best handcrafted wines. Beechworth's vineyards are sited on ridge tops or hillsides, where the ancient geology is bony, weathered ground with meagre vineyard soils that restrict grape yield to produce concentrated, intense wines.
The region is renowned for its chardonnay, shiraz and pinot noir with alternative Italian varietals quickly emerging.
In the Upper Goulburn wine region where vines hug the hinterland, you can taste aromatic whites, French-style sparkling and elegant, textural red wines at family-run cellar doors all under the gaze of snow-capped mountains. With Mansfield, Mount Buller and Lake Eildon on the doorstep you can pick up a good drop to take to the slopes or pack into the boat esky for a day on the lake.