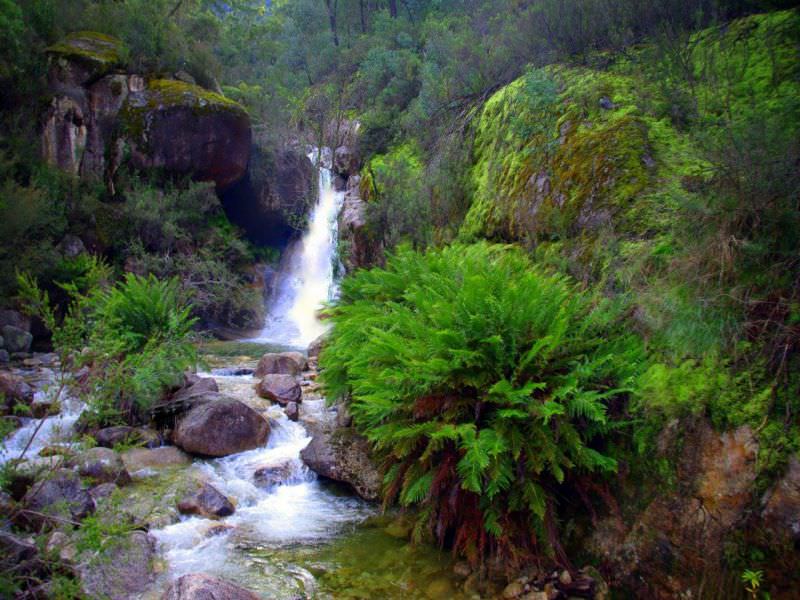 There's nothing quite like a cold mountain creek cascading over rocks into ever so clear rock pools where you can dip your toe or plunge headfirst on a hot Summer's day – or evening. Clearly the appeal is long standing as these waterfalls have long been on the to visit list for those heading up the hill to the chalet.
As the tradition goes, the ladies would take a break from their long train journey from Melbourne during the 1930's and 40's to refresh themselves before the final leg up the hill. Just a few kilometers from the base of the mountain and only 400 meters from the edge of the road, Ladies Bath Falls is still a perfect pause point to splash your face and be reinvigorated by the pristine waters that tumble all the way from the top of the plateau. It is actually these seemingly pure and gentle waters that have over time been the cause of the dramatic and iconic Mount Buffalo Gorge which you can see from all angles of the Ovens Valley. A great spot to cool off coming up or down the hill and an easily accessed trail makes it a good excuse to get out of the car and make the most of one of Mount Buffalo's most loved spots.
Located a ten minute drive from the Porepunkah round about up the main Mount Buffalo road. This walk is close to both Porepunkah and Bright so is perfect for a half day activity for all ages and abilities.  Ideal on a warm day becuase the short 400m bush walk is rewarded with the potential for a dip in the pristine and fresh waterfalls and rock pools which are making their way down from the top of the granitic headwater atop the lofty Mount Buffalo. The path is well formed and steps are in good condition making it an easy, uphill stroll. Take a picnic and spread yourself out on the boulders by the edge of the pools.