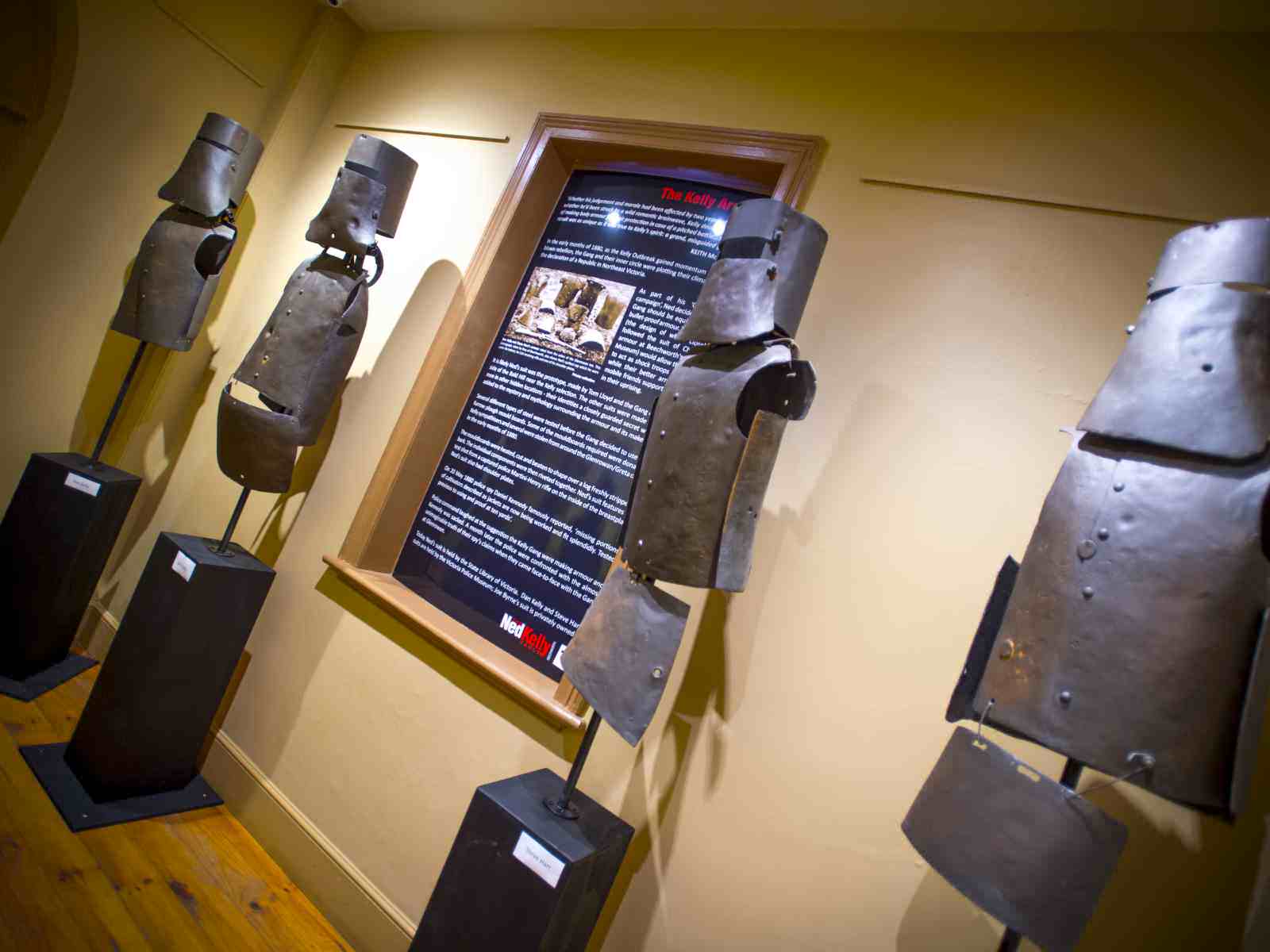 Beechworth and the surrounding bushland are intrinsically linked to the life and times of the infamous Bushranger, Ned Kelly.
You can follow Ned's story through the places he was linked to in Beechworth.
Beechworth Historic Courthouse
The Beechworth Historic Courthouse is among the few remaining living history museums in Australia and one of Beechworth's most visited attractions. The Courthouse features an atmospheric soundscape, featuring audio re-enactments of some of the key cases heard and expert historians bring to life some of the dramatic events which took place inside these walls, including the committal trial which sealed Ned Kelly's fate. The Historic & Cultural Precinct team offer fascinating insights into the people behind the stories including the hardships faced by Ned Kelly's mother Ellen who was sentenced to three years gaol here.
HM Prison Beechworth
The prison has been home to some of Australia's most well known bushrangers including Ned Kelly, Joe Byne and Harry Powers.
The prison also held twenty suspected Kelly sympathisers in 1879 in an attempt to limit support to the Kelly gang. Iron gates were installed at this time as it was feared that there might be an attempt to break the sympathisers out of the prison.
The Ned Kelly Vault
The Ned Kelly Vault is a permanent exhibition that brings together the largest collection of Kelly Gang articles and associated memorabilia in the world, preserving the history of Ned's reign in the region.
The Vault presents a display of stories and various artefacts to ensure that the history is preserved for generations to come. This carefully researched and curated exhibition boasts rare items including, Ned Kelly's death mask, Ned Kelly's gun which he named "Betty", the suit of armour worn by Mick Jagger in the 1970's movie Ned Kelly along with original photographs and documents.
Beechworth Lockup
The Beechworth Lockup is in the main Beechworth Historic and Cultural Precinct. Prisoners arrested and awaiting trial were kept here on remand until their trials came up in the nearby courthouse. Ned Kelly was kept here in 1871 and his mother Ellen in 1878.
---
Ned Kelly Walking Tour
Tour highlights include the house where Magistrate William Henry Foster, who presided over Ned Kellys Committal hearing in the Beechworth Court, lived and the site where Ned Kelly won a bare-knuckle boxing match in Beechworth that lasted 20 rounds.
Tours run daily, for a duration of 1 hour and 15 mins.
Tours leave from, and return to the Beechworth Visitor Information Centre. Please contact the Visitor Information Centre for times and bookings.