Grade 1:
No bushwalking experience required. Flat even surface with no steps or steep sections. Suitable for wheelchair users who have someone to assist them. Walks no greater than 5km.
Grade 2:
No bushwalking experience required. The track is hardened or compacted surface and may have a gentle hill section or sections and occasional steps. Walks no greater than 10km.
Grade 3:
Suitable for most ages and fitness levels. Some bushwalking experience recommended. Tracks may have short steep hill sections a rough surface and many steps. Walks up to 20km.
Grade 4:
Bushwalking experience recommended. Tracks may be long, rough and very steep. Directional signage may be limited.
Grade 5:
Very experienced bushwalkers with specialised skills, including navigation and emergency first aid. Tracks are likely to be very rough, very steep and unmarked. Walks may be more than 20km.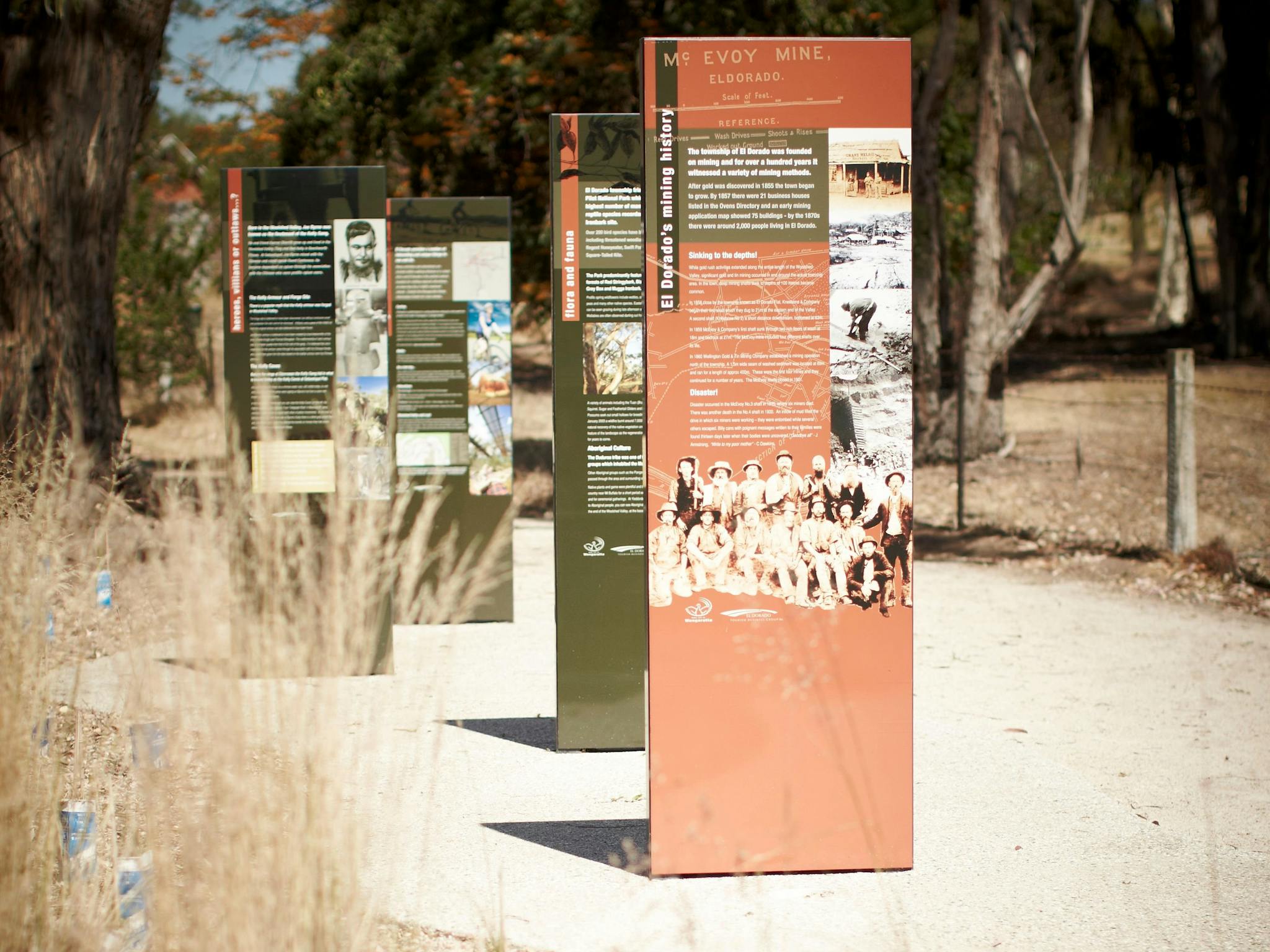 ---
Cock's Eldorado Dredge, one of the largest dredges in the Southern Hemisphere, has remained in its final mooring place at Eldorado since 1954.
It was tied up here after operating for 18 years and extracting 70,664 ounces of gold and 1,383 tons of tin concentrate from the rich alluvial plain of Reedy Creek. It remains a formidable sight and graphically illustrates the extent of the mining operation in and around the town.
The Dredge walk is an easy 15 minute stroll around the pond with numbered posts corresponding to information in Parks Victoria's Eldorado Dredge visitor guide brochure. Learn about the dredge, its operation and the environment.
The dredge walk is a smaller section of the shared path network in and around Eldorado which connects the historical landmarks, key township attractions and the dredge. It is a one hour round trip from the centre of town to the dredge and back along the shared path.
...
- Click items below to explore similar things in the High County Explorer
---