"You're down in the valley, often in a t-shirt, and you look up and see snow!" 
What better way to experience the glory of Spring in the High Country than on two wheels? Team that with private wine tastings, gnocchi making classes and hearty breakfasts of local produce and you have yourself a morning well spent.
It just so happens the High Country offers a plethora of cycle tours for all preferences and abilities, but two of the tastiest can be found in the Alpine region - 'Rolling Gnocchi Bicycle Tour' and 'Sunrises and Sombreros.'
Both tours cater for all ages and predominantly follow the Murray to Mountains Rail Trail. Rolling Gnocchi is guided by Clare Stock of Myrtleford Cycle Centre, which is where you'll gear up and collect your bike, before heading to Delizie Cafe Kitchen where Roberto Tarolin will have you elbow deep in dough. From there it's off on a tour around Myrtleford and Ovens, discovering the likes of Australian Pumpkin Seeds and Michelini Wines. Finally, you'll head back to Delizie to carb load on the spoils of your labours. 
Sunrises and Sombreros is an entirely different option, starting at Bright Electric Bikes where you'll pick your vehicle for the day (e-bike, traditional bike, cruiser and any kids bikes needed) and ride on out to Porepunkah. You will be welcomed to the Rail Trail Cafe with sparkling wine on arrival and a choice of delicious Mexican breakfast options, including a coffee or tea. From here you can head to Ringer Reef Winery at your leisure, where you'll be met with a complimentary glass of wine and tasting.
Feast High Country spoke to the brains behind the tours, Clare Stock (Rolling Gnocchi) and Leigh Marlow (Sunrises and Sombreros) on how the tours came to life, Spring in the valley and what to look forward to ...
Where did the idea come from to create your tour?
Clare: "A couple of years ago someone did a bread and butter tour and it got me thinking about combining food, wine and cycling. Myrtleford is such an undiscovered town with so many wonderful places to indulge!"
Leigh: "We put it together because we wanted something fun that showcased the local region and was a half day - so people weren't bound by one activity in a day. We think it represents really great value, particularly when you consider there's a lot of people that haven't ridden an electric bike before, so it's a good introduction to that as well."
Why is Spring a great time to do a cycle tour?
Clare: "The way the Ovens Valley is just bursting with Spring beauty makes for great cycling.  We've all been hibernating all Winter so it's a great chance to get outdoors and breathe the fresh air amongst blue skies and blossoms."
Leigh: "It's fun to do the tour at any time of year, but in Spring you can see the waterfalls coming off Buffalo and even a little bit of Spring snow.
"It's a really European style bike ride, particularly with the pine plantations around Bright and further afield with the national parks. You get really nice views of Bogong and Feathertop and they have snow on them. You're down in the valley, often in a t-shirt, and you look up and see snow!"
What do people enjoy most about your tour?
Clare: "They love making gnocchi, but they like eating it more. There's good gnocchi and there's awesome gnocchi, and Roberto will teach you how to make easy, melt-in-your-mouth, awesome gnocchi!"
Leigh: "They're always surprised at how amazing the breakfast is, but if they've never ridden an e-bike before they liken riding an e-bike to travelling business class when you've only ever been in economy. 
"There's not that many regions in Australia where you can spend a lot of time safely on a paved bike path and get to great cafes and great wineries. Both are right on the Murray to Mountains trail so there's minimal riding on the road, and it is a very uncongested road with low traffic."
For bookings, contact Myrtleford Cycle Centre (Rolling Gnocchi) or Bright Electric Bikes (Sunrises and Sombreros).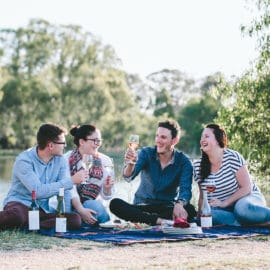 Fresh produce, green grass and cool, pristine waters – the perfect Summer picnic