We're called the High Country for a reason. Lofty mountain ranges and picturesque valleys provide knockout views. Pair them with our finest produce, and you're in for one memorable picnic experience.
Top picnic spots with a view
The local's might get a little touchy by letting this one out. Tucked away on the edge of the Stanley State Forest, you'll find a clearing perched on the edge of an escarpment. A large picnic table, a basic fire pit, yes. But that not what we're here for. That view. A panoramic view of the distant mountain ranges, with the mighty Mount Buffalo dominating to the east, and on a clear day you can even see the peak of Mt Buller in the distance. Murmungee Lookout is a pretty special place to escape from reality and is only a 10 minute drive from the centre of Beechworth.
Possibly one of the most spectacular picnic spots in Australia, The Horn Picnic Area boasts breathtaking views of the Alpine Valleys and beyond. Those mountains just go on and on…Hotham, Mount Feathertop, Mount Buller. All of these peaks are easily spotted from the architecturally interesting, boulder-filled and utterly beautiful 'Buffalo Horn'. At 1,723 metres elevation, The Horn is the highest point in the Mount Buffalo National Park, on the western side of the Victorian Alps. Pack wisely, as you won't want to be moving from this spot for a while!
You can park the car in town and add a lovely stroll to your picnic adventures, as The Gorge is a 20-minute walk from the centre of Beechworth. However, if you want to reserve your energy for all the eating, get there early in the morning to secure a spot. Parking is limited. So what is The Gorge? A leftover of Beechworth's rich gold mining history, the water source running through The Gorge, Spring Creek, was exposed by a method called sluicing (new word of the day!), to extract the glistening gold. It's a beautiful place for a picnic and a paddle,  but beware the rocks are extremely slippery. This is not a place for young children or people who are a little unsteady on their feet. There are large drops and water-smoothed shiny and slippery surfaces that can be dangerous.
Who doesn't love a bit of history with their salad roll and thermos of milo? Dotted all over the Victorian Alps are iconic cattlemen's huts. These huts were a refuge to isolated mountain cattleman, who would herd over, around and through the beautiful and sometimes treacherous landscapes of the High Country. Wallace's Hut is the oldest standing cattlemen's hut in the Alpine National Park and is classified under the National Trust. It was built from slabs of snowgum by the Wallace Brothers in 1889 and is located along the Bogong High Plains Road, 7.7 kms from the Rocky Valley storage dam wall.
No shelter, BBQ or even a picnic table in sight - we're taking picnics back to the basics. Unfurl that trusty (and underused) picnic blanket and soak in the some of the best views in the High Country. Wind your way up to The Paps Lookout which is a tidy 700m above sea level. The walk is a bit of an effort (up to an hour depending on your fitness), so you can drive your car to a certain point for a shorter walk to the top. It's well worth the effort with these unique panoramic views over Lake Eildon, Mansfield, surrounding farmland and the ranges, including Mts Buller, Stirling and Timbertop.
Altitude seems to be a bit of a trend with these scenic picnic spots, but we're going to bring you back down to earth, by the shore of Lake Hume. At the Tallangatta Foreshore to be exact. With some spectacular views across the lake, which is estimated to hold approximately six times the volume of water in Sydney Harbour, this picnic area is a triple treat - watersports (don't forget the fishing rod), an interactive splash park for the kids and an undercover picnic and BBQ area. A local favourite, especially in those warmers months.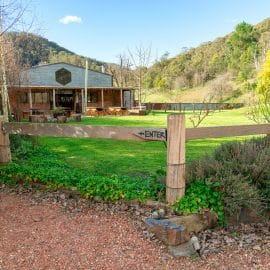 Billson's Brewery and Mitta Mitta Brewing Co. have officially joined the High Country Brewery Trail! The newcomers bring fresh, new perspectives on beer, fantastic (and very different) venues and a swag of delicious beers to try. For those with a passion for history, Billson's will surely satisfy and those interested in finding that 'taste of place,' Mitta Mitta is your next stop.