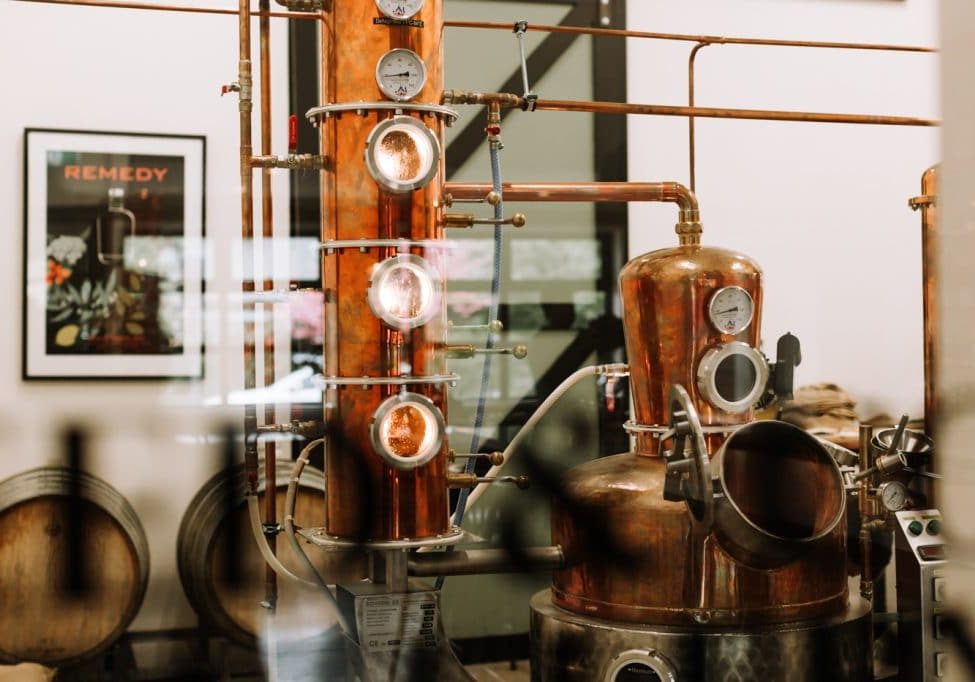 The Evolution of Reed & Co Distillery
For those looking to taste the beauty and complexity of the High Country in an expertly crafted fashion, Reed & Co Distillery in Bright is your ticket.
Hamish Nugent and Rachel Reed are the talent behind the rapidly growing brand, which essentially began as an ancillary element to their Hatted restaurant at the time, Tani Eat & Drink. 
The pair's High Country story began a couple of restaurants before that, however, in Dinner Plain when Hamish started Tusbo - a Japanese restaurant that swelled nightly with local and visiting patrons during the snow season. Following this, Hamish and Rachel moved to Bright, (whilst partnering in another restaurant at Mt Hotham, the popular Yama Kitchen & Bar) and opened Tani Eat & Drink. 
Tani was swiftly awarded 'New Regional Restaurant of the Year' and 'One Chefs Hat'. But when distilling entered the picture, originating as a way of trialling oil extractions for potential use in dishes, Hamish and Rachel started experimenting with gin and were instantly hooked. With their talent for creating delicate, complex foods and passion for the little slice of heaven they call home, Reed & Co Distillery was born, eventually pushing Tani out of the way to make room for the new venture. Rest assured, however, food is still a big part of the Reed & Co experience, with a menu shaped around a custom built solid fuel grill and oven, along with the botanicals of Remedy Gin.
Reed & Co now boasts two gins, the original Remedy Gin and the new NE07, and a new, growing range of seasonal limited edition batch releases under the sub-brand Spirit Lab, including Coffee Liqueur, Gin & Juice and Wild Blackberry Gin. 
All products use regional ingredients, delivering a true 'taste of place' to patrons.
"With Remedy Gin our aim was to create a gin that reflected our patch here in the Alpine Valley," Rachel said.
"With this in mind, we set out to create a bush inspired Australian dry gin with the use of many local and wild botanicals. So far, all our other gins are created according to the season we are in, that way we are using the botanical in its prime.
"We have a unique climate in the High Country,  hot and dry Summers and particularly chilly Winters. Perfect conditions for the Mt Pepper and Eucalyptus Citriodora, both key ingredients in Remedy Gin. We also have a great green tea farmer not to far from us. We use a First Harvest Green Tea from Tawonga, a premium green tea farm that you would expect to see in Japan."
For Spirit Lab, Hamish and Rachel have taken it one step further by collaborating with local businesses for ingredients, including Sixpence Coffee and Billy Button Wines.
"Most of us started back in the restaurant world," Hamish said.
"We have a really tight relationship with Jo from Billy Button, so we're always doing different bits and pieces with her. Marty picked the wild blackberries for us, he used to be one of our suppliers for Tani, and we shared a space with Sixpence coffee so it's part of a naturally evolved relationship."
Hamish and Rachel consider Spirit Lab an opportunity to be even more creative, treating it as an outlet to use different botanicals and distillation processes unable to be used in larger volumes.
"We still use a traditional copper pot still but we've also put in a 50L rotorap, so it means we can distil at 30 degrees celsius, as opposed to 80," Hamish said. 
"The rotorap is normally used in pharmaceuticals but we're using it for oil extraction. Out of it we can get a really clean citrus flavour, as opposed to the copper still which will give us more cooked lemon tart flavours."
Look out for more Reed & Co product launches soon, including a more refined NE07 (North East, seven essentials) and 'another juniper driven gin' - that's all they'll tell us!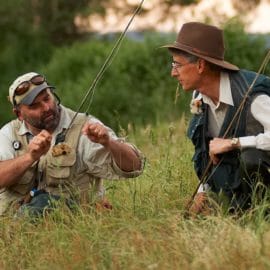 Summer is the perfect time to throw a rod in and get yourself hooked on this favourite High Country pastime.