There's something about gardens that always inspires the imagination … 
As a child you eagerly hunt for Easter eggs in gardens and read books like The Magic Faraway Tree, The Secret Garden and Alice in Wonderland, hoping one day you might glimpse something magical. As a young adult it conjures thoughts of a dream wedding and elegant parties, and as you grow older it simply serves as a reminder that the real magic is right in front of you - in brightly coloured flowers, busy bees and sweet smells of Spring.
Speaking of Spring - it's here! Soak it up the best way possible with a delicious lunch surrounded by stunning, blooming gardens. Visit Gapsted Wines for pink blossoms and a view of Mt Buffalo, Brown Brothers to picnic in the garden (and lounge about on bean bags!), All Saints for extensive, impressively manicured grounds and many more, each with their own unique garden to explore.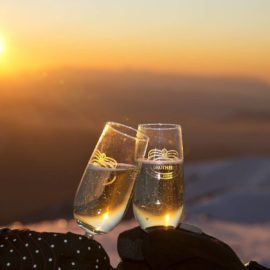 Some wines are literally made for crisp days and frosty nights, to be paired with slow cooked lamb or sticky date pudding and enjoyed by a crackling fire. When it comes to Winter, trust these wineries to serve you the very best in big reds, fortifieds and full bodied chardonnays.