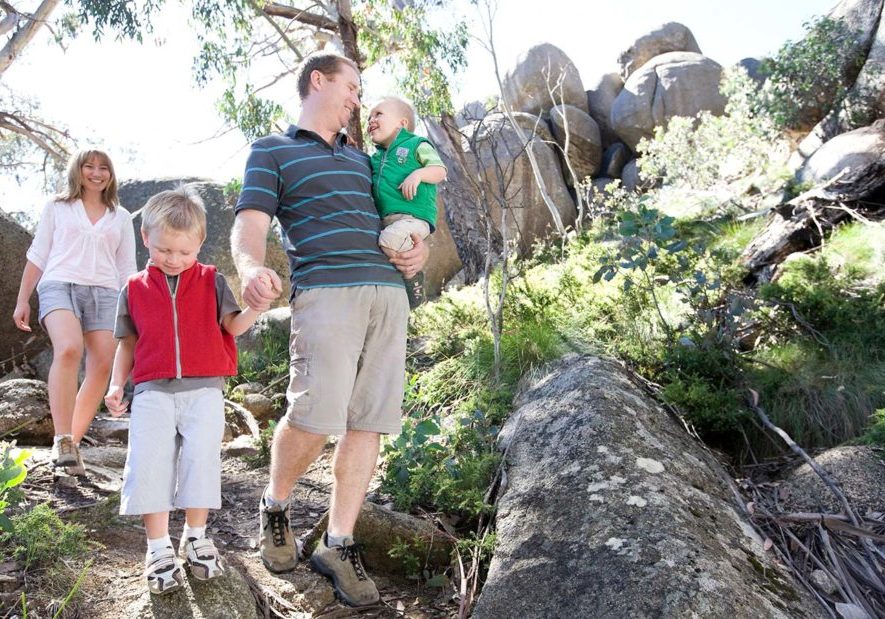 Visitors should be aware of and prepare for natural hazards and other outdoor risks in Victoria's High Country National Parks and waterways. To stay safe and get the most out of your visit, please read the safety preparation advice below. You are responsible for your own safety and the safety of those in your care. See full version at Parks Victoria.
Research your trip: Check out short walks, trails and other information on the Park Notes attached to each park.
Make the right choices: Match your walks and activities to your abilities, fitness and stamina. Wear good walking shoes and protective clothing for all activities. Always carry water with you.
Be Sunsmart: Make sure you wear a broad brimmed hat, long sleeves, sunglasses, and apply sunscreen every 2 hours. Try and stay in the shade during the middle of the day when UV levels reach their maximum. For more information on how to protect yourself from sunburn, visit www.sunsmart.com.au
Check the weather: Some National Parks may be closed due to major weather events. Check for Change of Conditions in the park you plan to visit before you leave. For weather forecasts and warnings, check the Bureau of Meteorology. Always bring protective clothing in case the weather changes
Be fire aware: Familiarise yourself with important bushfire safety information as well as what you can and can't do during danger periods and total fire bans. Check www.emergency.vic.gov.au for information about current fires and for Fire Danger Ratings and Total Fire Bans and read Visit Victoria's bushfire safety page.
Allergies: Visitors allergic to insect stings, including those with a history of anaphylaxis, should come completely prepared to reduce the likelihood of an incident. Always wear protective footwear, long trousers and long sleeved shirts to avoid insect bites.
Tree risk: When camping or having a picnic, be aware that trees and limbs may fall unpredictably. Being under or near trees may be dangerous and could cause injury.

If your boat capsizes, make sure you can stay afloat. Life jackets (PFD's) are compulsory.
Pack a hat, water, sunglasses and plenty of sunscreen to avoid sunburn and dehydration.
Conduct a full safety check of your boat/watercraft before you leave.
If you plan to kayak, check river levels before you leave and when you arrive.
Pack appropriate safety equipment including, map, compass, first aid kit, bilge pump and distress flares in case of emergency.
If you are planning an extended trip, or going paddling in remote areas, provide your family/friends with a map of where you are going, your vehicle registration and when you plan to return.
In an emergency, dial Triple Zero 000 to access police and emergency services.

Make sure you're well prepared and confident with your equipment. Carry plenty of water, snacks, repair kits and pump, and be sure to check local weather and emergency services for weather and fire/flood warnings.
Cyclists have a responsibility to follow the road laws for the safety of ourselves and other road users. Road cyclists need to read our road riding safety information where you can also download the Cyclist Code of Conduct.

Never swim alone - if you get into difficulties you could drown.
Ensure you supervise your children near water at all times.
Between September - April, wear a hat, long sleeves, sunglasses, apply sunscreen every 2 hours and seek the shade of your beach shelter regularly.
Beware of blue-green algae, especially in mid-late summer. Avoid swimming in affected lakes as the algae is poisonous.
In an emergency, dial Triple Zero 000 to access police and emergency services.

Check the Bureau of Meteorology for weather forecasts and warnings, including High Fire Danger days. Contact the local Parks office about conditions, tracks, river and stream levels and possible fire danger.
Never travel alone in remote areas. For safety, a group of three is considered a minimum
Plan ahead - choose your walks and activities to match your abilities, stamina and fitness
Pack more than enough food, water, torch, sunglasses, sunscreen and a good first aid kit
Tell a friend where you are going, give them a map of the park, marking which areas you plan to visit, your vehicle registration number and when you plan to return.
Always bring a detailed topographic map of the areas you visit and a compass and know how to use them both. Topographic maps are available from DEPI.
Mobile phone coverage is often limited in remote areas. In case of emergency you may wish to bring a satellite phone, or hire a Personal Locator Beacon (PLB).
Park roads and tracks are often rough and built in steep terrain. Drive carefully at all times and beware of wildlife crossing the road.

Check the Australian Alps Weather before you leave home.
Dramatic weather changes are common in alpine areas. It's best to pack clothing for all conditions. Ensure you pack a space blanket in case of emergency.
Cold, wet and windy conditions are a dangerous combination in alpine areas. Be aware of the causes, symptoms and treatment of hypothermia.
Be self-sufficient with drinking water.
Skills in using a map and compass are essential in alpine areas.
In an emergency, dial Triple Zero 000 to access police and emergency services.