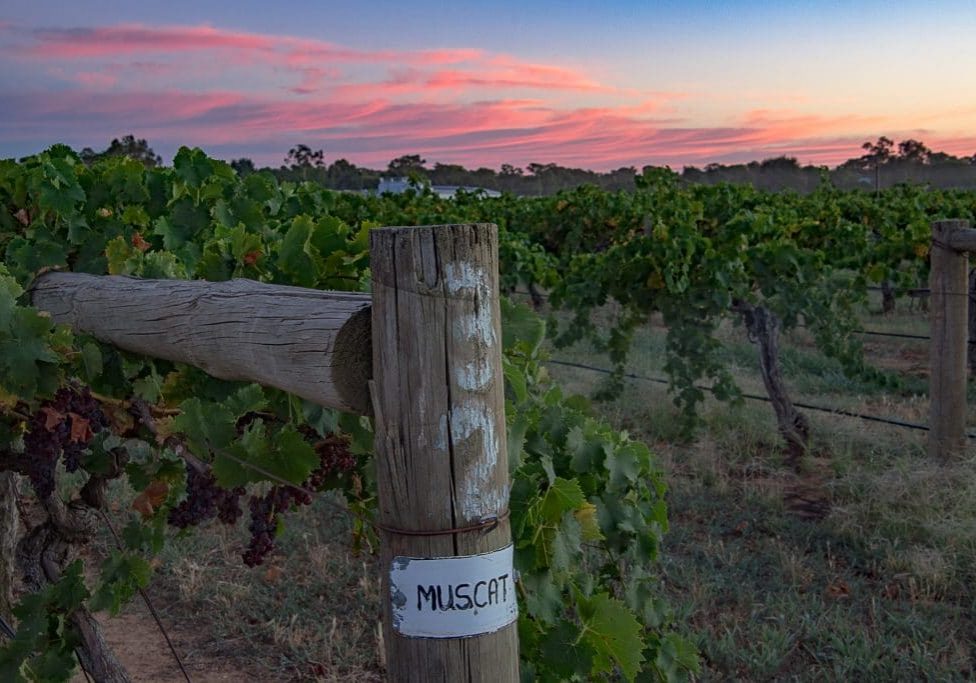 The Four Faces of Rutherglen Muscat
It has been said that "talent wins games, but teamwork and intelligence win championships". Luckily for the Muscat winemakers of Rutherglen, they have all three.
When it comes to Muscat, egos are set aside and teamwork prevails, as is embodied in the Rutherglen Muscat Classification, which came into being in 1995. Prior to this, the world of Muscat was a complex one indeed, as Stanton & Killeen winemaker Andrew Drumm explains.
"Previously, there were a whole lot of names for the various Muscats," he said.
"Everyone had their own opinions on what it should be called - there was no consistency. If a customer picked up a classic muscat, they might get something that's five years old or something that's 20 years old. It has little to do with the age and more to do with the sensory characteristics of the Muscat.
"So, you might drink a Muscat that calls itself 'classic' yet doesn't have much guts to it, or you might get something that's big and ripe".
On top of this, the Australian Muscat market had dramatically changed. According to Wine Australia, in 1950 fortified wines accounted for 86 per cent of Australian wine production, now they only account for around 2 per cent. That said, fortified wines are in growth, led by our champion - Muscat. Campbells Wines winemaker Colin Campbell says the change came about with the influx of Italians calling the area home.
"In the early 60s, fortified wines fell out of favour because table wines took over, primarily due to Italian immigrants drinking wine with food as opposed to after a meal," he said.
"When that happened the fortified wines began to drop off. At that stage the different names for Muscat between the different wineries were all a mess, there was no conformity and you didn't know what you were drinking".
To address this, the Rutherglen Muscat winemakers developed a classification system that breaks Muscats up into four groups:
Rutherglen Muscat is the foundation of the style; displaying the fresh raisin aromas, rich fruit, clean spirit and great length of flavour on the palate - the mark of all the Muscats of Rutherglen. Average age 3 - 5 years. Residual sweetness 180 - 240 grams per litre.
Classic Rutherglen Muscat displays a greater level of richness and complexity, produced through the blending of selected parcels of wine, often matured in various sizes of oak cask to impart the distinctive dry 'rancio' characters produced from maturation in seasoned wood. Average age 6 - 10 years. Residual sweetness 200 - 280 grams per litre.
Grand Rutherglen Muscat takes the flavour of Rutherglen muscat to a still higher plane of development, displaying a new level of intensity, depth and concentration of flavour, mature rancio characters, and a complexity which imparts layers of texture and flavour. Average age 11 - 19 years. Residual sweetness 270 - 400 grams per litre.
Rare Rutherglen Muscat is rare by name and by nature. These are the pinnacle Rutherglen Muscats - fully developed and displaying the extraordinary qualities that result from the blending of selected parcels of only the very richest and most complete wines in the cellar. Rare Rutherglen Muscats are only bottled in tiny quantities each year, but for those privileged to taste them, these are wines of breathtaking complexity, texture and depth of flavour. Minimum age 20+ years. Residual sweetness 270 - 400 grams per litre.
The new system makes a pointed effort not to rely on age to determine classifications, though it does provide some clue. But why?
"It was a deliberate attempt to keep ages out of it because anyone, in theory, can keep a fortified wine in a barrel for 15 years and say it's a 15 year old muscat, but the problem is if they haven't looked after it, it's just a 15 year old, stale, fairly unappealing wine," Andrew clarifies.
So, now we have these classifications, how is each wine correctly classified?
"We set our wines out and have groups of the Rutherglen Muscat, the classic Muscat, the grande and the rare," Colin says.
"We all sit there and taste each of the wines, then we talk about the them. It's all done with peers and it's worked brilliantly".
It has worked so brilliantly, in fact, that the old Australian Muscat Classification system (based purely on age) has officially evolved into the Rutherglen system, though there's always room for further evolution - if needed. Although the Rutherglen Muscat Classifications are neatly packaged up now, fifth generation vigneron Stephen Chambers of Chambers Rosewood Vineyards explains there's always a grey area…
"Unintentionally, the first two classifications, the Rutherglen and the Classic, were about youth and primary fruit characters, and the Grand and the Rare are about depth and intensity with age," he says.
"So there can be a big gap in terms of the characters of the wines between the Classic and the Grand. The Rutherglen and the Classic, need to drive them young, whereas the Grand and the Rare you're trying to drive them older. There's some people that already have different styles out there - they put them to one side away from the classification. We even have a single vintage which we don't classify, so there is potential to play around with the edges".
So there you have it. Just as Rutherglen winemakers have guided the world in the stellar Muscats they produce, they guided the way we select them from the shelf or cellar - and how lucky are we to have them just a stone's throw away!