"There was a little girl,
Who had a little curl,
Right in the middle of her forehead.
When she was good
She was very very good,
And when she was bad she was horrid!"
That's the way fifth generation winemaker and founder of Warrabilla Wines, Andrew Sutherland Smith, explains his ever challenging, bold (sometimes wayward) but beloved child - the Durif.
She's thin skinned, loves the sun (and of course needs sunblock applied), hates the wet, attracts fungi and moths… In short - she's hard work, but boy is she worth it!
Durif is a red grape variety hailing from the South of France, though now primarily calls California and Australia home. Stewed cherry, raisin, mixed fruit spice, dark leather, crushed violet, liquorice, chocolate and Monte Carlo biscuits are all qualities and characters this 'big' wine can evoke.
You've been quoted many times talking about the difficult nature of Durif, but also about how rewarding it can be. What do you love about it?
"When it's ripe it's massive, with this lovely fruit character and an incredibly soft tannin structure to it - lots of tannin, lots of colour.
"I've got some that are '02s that are still bright, purple and vibrant. When he was still alive, John Brown Sr bought a bottle in a brown paper bag to the winemakers group (to guess the age) and I was the closest in the room. I thought it was eight years old and it was a fifty-year-old local durif! That blew me away.
"When it's good it's good. It's like the little girl with the curl in the middle of her forehead".
Ok, let's talk about the complexity with growing it. What's all the fuss about?
"Durif is a pig to grow! It's thin skinned, it's prone to botrytis, the light brown apple moths love it and it's tight bunched, which gets the botrytis gets going. It's very prone to sunburn too. We actually put Surround on it, which is like a sunblock for grape vines.
"It's also very prone to throwing second croppers. The trouble with those is they're immature and they almost look the same so it's very common with a grape harvester to get them in there with your other stuff. It's green as grass, herbaceous and has a very hard tannin structure to it. I've had judges in wine shows tell me they like the minty herbaceous character in these Durifs, but I don't like it - I drop that fruit on the ground".
Rutherglen is clearly God's country when it comes to wine growing and Durif is no exception. Winery operations manager at Campbells of Rutherglen, Ian Diver, also enjoys the beautiful big flavours Rutherglen soil enables, but agrees the tannin factor always needs to be carefully managed.
Why is Rutherglen such a great place to make Durif?
"It seems to have a great ability here and part of it is definitely soil types. With heavy red clays you tend to get a lot of ironstone character coming through in the wines from the decomposed clay minerals around.
"It really does like the hot, dry weather here in the summer as well, because it needs to get fully ripe to get quite high percentages of alcohol with body and tannin and colour. It's really suited to the climatic conditions we've got".
How does it rate on your scale of favourite wines to make?
"It can be a bit tricky. You really need to tame those tannins. With it being related to Shiraz, we use very similar methods. We try to extract maximum flavour and a decent amount of tannin without those tannins being a bit too harsh or too extractive. Then we get it into the best ageing barrels we can - it is a good variety to be making".
What are people missing out on if they don't come to Rutherglen to try the Durif?
"It's reputation is it's a big, bold red wine, so it's one step up from Shiraz. We have Durifs that are like a meal within themselves and everyone gives it a go!
"That said, there's such a wide variety of Durifs available in the area and they aren't all as big and bold as that."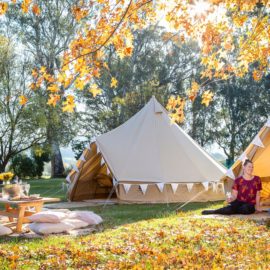 From Prosecco matching classes to e-bike adventures and luxurious glamping, seven new Prosecco Road experiences await you this Spring. Make a long weekend of the Melbourne Cup holiday this year and spend it in the beautiful King Valley.