When the burning Australian sun hangs highest, the roos lazily lick their arms in the shade and cicadas refuse to sleep - you know it's time for a perfectly chilled rosé! It's the wine that simultaneously appeases die-hard, tannin-loving red drinkers and gently lures white enthusiasts into a new, fabulous territory.
With increasing popularity, many High Country winemakers have eagerly began exploring ways to make rosé in a true wine style, rather than what's essentially a bi-product (albeit a very tasty one!) Blending red and white, saignée (overcropping to lessen the intense flavours of red grapes) or adopting white wine making methods using red grapes, there's more than one way to skin a grape here in the High Country!
Yes, it's time for you to discover the beauty and diversity of the rosé, but to help you along, we've handpicked some of our favourites for you. Pop in, say we said g'day, run through a tasting and grab yourself a bottle to enjoy while soaking up the sensational views.
When you arrive at Scion in Rutherglen, you'll be warmly greeted by the sweet and cheeky wine dog, Sasha. After being escorted to the cellar door and tasting their impressive range, grab yourself a bottle of their finest pink stuff, a dry, savoury rosé made using early-season, hand-harvested durif.  With bottle in hand, it's time to find a spot under the beautiful gum trees and just let time pass you by.
For serious rosé lovers who relish in stunning views, head straight to Amulet Vineyard. Pioneering the region, Amulet are among the first to make rosé from sangiovese grapes. Add that to a careful, deliberate winemaking process and you get a perfectly dry rosé with no residual sugar, delivering an abundance of mouth feel and creaminess. The winemaker's personal favourite.
Clear your afternoon schedule because once you hit Dal Zotto Wines, there will be little reason to leave. Bocce court, cellar door, trattoria, and the stunning outdoor area where you can sit on the grass under the giant gum tree. Their rosato is a savoury blend of sangiovese and barbera grapes, perfect for an afternoon in the sun.
The Indigo Vineyard cellar door experience is as relaxing and welcoming as it gets. The team will guide you through their range of wines, all from the comfort of a seated tasting. The Indigo rosé is made from pinot noir grapes, giving the wine beautiful strawberry notes with a nice touch of acid. Grab a bottle, and head outside to where the afternoon sun drenches the beautifully kept gardens.
Delatite Wines sassy rosé is made with estate-grown tempranillo. This rosé has a delightful blush of deep pink with a texture and spice to complement the red berry characteristics. It's the perfect match to their delicious platter featuring locally sourced and made produce. With the hard work done for you, it's time to kick up your heels and enjoy the fruits of their labour.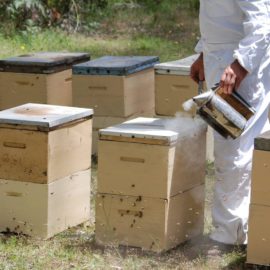 When you talk about bees, you can't go past the honey royalty of the High Country, Jodie and Steve Goldsworthy of Beechworth Honey.