Hamish Nugent and partner Rachel Reed are the brains and brawn behind Bright's Reed & Co Distillery which opened its doors in 2017. However, their High Country story began around 10 years ago. Hamish started his first restaurant in Dinner Plain, before the pair moved down the valley to Bright where they opened the acclaimed Tani Eat & Drink. Locals and visitors alike knew they were on to a good thing when Tani was swiftly awarded 'New Regional Restaurant of the Year' and 'One Chefs Hat'. During this time, the two were partners in another casual restaurant on Hotham, the popular Yama Kitchen & Bar, serving up not your regular aprés ski snacks.
The pair started distilling as an added element to Tani around 3.5 years ago, approaching it from a cooking perspective. After trialling oil extractions for potential use in dishes Hamish and Rachel started playing around with gin and became obsessed with distillation. With their solid cooking background, it turns out gin was a good fit for the pair. Manipulating flavours, fermentation and discovering botanicals is definitely their happy place.
Hamish and Rachel share their love of gin and love of the High Country.
What do you love about making gin?
We love working with the different botanicals and seeing how they develop through distillation compared to when you cook with the same botanical.
How do you go about choosing the best ingredients that go in to your gin?
With Remedy Gin our aim was to create a gin that reflected our patch here in the Alpine Valley. With this in mind, we set out to create a bush inspired Australian dry gin with the use of many local and wild botanicals. So far, all our other gins are created according to the season we are in, that way we are using the botanical in it's prime. We made a Galaxy Hop gin (Lupulin) from the local hop harvest and recently made a Mistelle (Il Picco) from the grape harvest.
Where do your ingredients come from?
Majority of our botanicals are sourced in Australia and as many as possible local to North East Victoria. For the few botanicals that are not available here, we source the best available, for example, juniper berries.
What interesting High Country ingredients do you use in your gin?
We do have a unique climate in the High Country,  hot and dry Summers and particularly chilly Winters. Perfect conditions for the Mt Pepper and Eucalyptus Citriodora, both key ingredients in Remedy Gin. We also have a great green tea farmer not to far from us. We use a First Harvest Green Tea from Tawonga, a premium green tea farm that you would expect to see in Japan.
How does your food menu reflect the region and elevate your gin experience?
Our menu is created around our custom built solid fuel oven and grill, powered purely by fire. We use local and seasonal ingredients throughout the menu which extends to the cocktails on our list. At the moment we have a Murray River cod which comes from Buffalo River. This is rested on the grill to impart a light smoky flavour to complement the earthiness of the fish. We match this to a Dirty Martini which is full bodied and dry, with a touch of salt from the olive brine.
We also have a scotch beef dish with Yuzukoshó butter. The yuzu (Japanese citrus) is from Eurobin we match this to a sour yuzu and lime gimlet.
Why did you decide to move to Bright?
We decided to move to Bright because of everything it has to offer, from the great produce and producers surrounding us to the outdoor activities. We are lucky to live in a country town that has so much to offer in the hospitality scene.
What excites you about Spring in the High Country?
The valley comes alive with blossoms and edible leaves, it's a really stunning time of year. Any new season is always exciting with the produce it brings. We are privileged here in the North East to truly experience all four seasons.
What places day you love showing off to visiting friends and family?
Mount Buffalo would have to be one of my favourite spots. We usually take them on one of the many walks and show them the beautiful Ladies Bath Falls.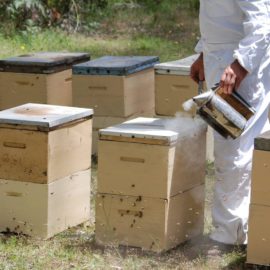 When you talk about bees, you can't go past the honey royalty of the High Country, Jodie and Steve Goldsworthy of Beechworth Honey.