When you're out of town, and let's face it, out of your foodie comfort zone, you find yourself exposed and somewhat anxious. Where do I find THE BEST coffee? Who serves all day breakfast? Are there any decent gluten free options for *my friend*? Where can I soak up some rays while sipping on a tasty local brew?
Chapter one of our 'stress less, we've got your covered' series. High Country pubs with incredible food and delicious local craft beer.
Shady decks, live music, bike parking, kiddies playgrounds... and you can expect more than just a bowl of wedges with sour cream and sweet chilli sauce. These guys boast some of our tastiest menus featuring local produce.
First cab off the rank. Friendly publicans, inn-keepers and hoteliers have pimped and primed their menus, featuring seasonal produce and a little High Country flair.
The good times don't stop here, queue our local craft breweries. These guys are making beer at the source, so you best believe that it's top notch brews coming your way. The crew put as much love and care into their food menus as they do their beers, so pull up a pew.
You're welcome.
With a dedication to local produce and BIG flavours, The Wandi Pub menu draws in visitors far and wide. With tasty treats, like the charred kransky with wombok slaw and sriracha, with a side of fat potato chips and bourbon bbq sauce, it's best to skip breakfast.
Classic pub fare, a sophisticated dining room and casual outdoor area (with Mount Buffalo views!), local wine and craft beer in the middle of the High Country... yes, your perfect pub does exist, the Punkah Pub to be exact.
The Mountain View Hotel sits at the end of a beautiful drive into the King Valley. A classic country pub, don't be surprised when you spy the menu. Fine local wine, High Country craft beer, and a refined menu featuring local produce that will have you planning your next visit. The Mountain View has multiple dining spaces and offers both pub classics plus an extended Italian influenced menu.
The Empire Hotel is a grand old pub, in the heart of the historic town of Beechworth. But there ain't nothing old about what gets served up in this joint. Bright, fun and creative bar food (think trout betel leaves & lamb kofte) or take a handful of steps down into the tastefully refurbished formal dining area and be prepared to be blown away by the contemporary fare served up by their experienced team.
Bridge Road Brewers long tables, shady trees and giant umbrellas are ready and waiting for your long afternoon lunch. Not only does the team brew up some of Australia's most popular and tasty craft beers, their hand made pizzas, pastrami sandwich and juicy brewery burger deserve their own round of applause.
Bright Brewery's Hop Terrace, overlooking the beautiful Oven's River might just be the number one seat in town. This large shady area boasts ample seating to cater for your crew. Meat lovers, gluten-averse, vegetarians and vegans rejoice, the extensive and delicious menu caters for all.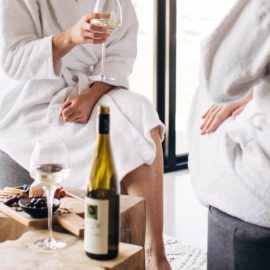 These spas make the most of their location, offering specifically tailored, seasonal food and wines.