You can track the history of prosecco in Australia, to the very block where winemaker Otto Dal Zotto planted the first vines in the heart of the King Valley,  back in the late 1990s. Fast forward 20+ years and millions of bottles later, and you've found the home of Australian prosecco.
You will be swept up in the flavours and stories behind this zesty, bright, fun-filled bubbles, but the experience runs much deeper than just tasting the wines. At the heart of the King Valley, lies the warm and welcoming Italian hospitality - graze on vibrant and seasonal Italian menus, relax by the bocce court, or squeeze in a traditional Italian cooking class. And of course, woven throughout every experience is the golden girl, prosecco.
A unique prosecco experience that captures the heart of the King Valley, Prosecco Road is an exciting food and wine trail stopping at five producers in the valley. Pick up a map at any of these cellar doors, and follow the trail over a relaxed weekend, or an action packed day.
Prosecco Road Cellar Doors
Explore the two styles of Brown Brother's prosecco with a complementary tasting in the heart of the winery. If the sun is shining, take advantage and enjoy your prosecco with a cheese and charcuterie plate for two on a picnic rug in the beautiful gardens. If you've got a bit of extra time up your sleeves, why not take a tour of the vineyards....by helicopter!
You'll spot the beautiful Sam Miranda winery from a mile away, with the distinct wooden structure, towering over the landscape. After tasting their range of Italian style wines, head outside to be treated to a tasting platter for two or many, with prosecco inspired canapés, and of course a glass of the bubbly stuff.
Where to start? Prosecco and a game of bocce, seasonal prosecco cocktails on the lawn, prosecco desserts or the prosecco mini degustation?! Or really get to know the history of prosecco and join the Dal Zottos for a guided hike through the magnificent King Valley. Includes private wine tasting and lunch.
Besides making a spectacular range of Italian style wines, the Pizzini family also create an impressive range of tasty treats like Rocky Prosecco Road, Raspberry & Prosecco Jam and Peach Bellini, the perfect gift for those poor folks who didn't make it along for the ride.
The impressive Chrismont Wines cellar door almost floats above their sloping vineyard below, and offers eagle eye views of the beautiful King Valley. Join Chrismont winemaker Warren Proft, for an informative prosecco masterclass and go straight to the source with a tour through the vines. If you've run out of steam, there's always the Chrismont Guesthouse to kick back and enjoy more of the good life.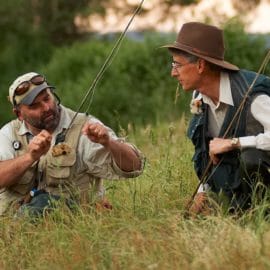 Summer is the perfect time to throw a rod in and get yourself hooked on this favourite High Country pastime.