If you can count all the beer styles you know on one hand, you're missing out. With summer in full swing, let's open up our minds, and palates, to these interesting beer styles - particularly suited to sunshine, laying on the grass and light and fresh food that can be found at our High Country Breweries.
A delicate Belgian inspired white ale, light and refreshing with subtle orange-zest and coriander, this beer is Summer!
This golden light bodied pale ale has a hint of sweetness and citrus fruit. Fermented with a slightly funky Belgian yeast this beer provides full mouthfeel and a crisp yet fruity taste. With Tropical hops added to the end of fermentation, this little ale has a tangy finish.
Using Crystal hops to create a clean crisp ale, this brew throws slight citrus, passion fruit aromas with restrained spice.  A very session-able beer, perfect on sun-drenched days in the mountains.
This tasty number is unique, light straw in colour, with a bright white head. The citrus character combined with grassy hop flavours make this a fantastic food beer.
Inspired by the late 19th-century crystal ales (that Wangaratta was famous for), this is an easy drinking and refreshing ale with a crisp, earthy flavour with balanced sweetness.
Drifter is a new world lager brewed with local hops grown just down the Great Alpine Road. A bright golden beer with a touch of malt sweetness with a nice kick of citrus and melon aromas.
A Bohemian Pilsner with rounded malt character, biscuity and toasty, with prominent use of traditional Czech Saaz hops to create a spicy/herbal profile. Elevated bitterness helps to balance the malt, leaving this Pilsner crisp and refreshing, perfect to while away an afternoon in the sun.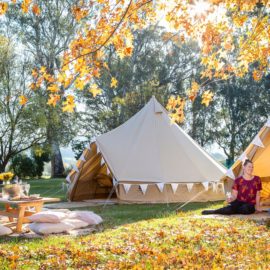 From Prosecco matching classes to e-bike adventures and luxurious glamping, seven new Prosecco Road experiences await you this Spring. Make a long weekend of the Melbourne Cup holiday this year and spend it in the beautiful King Valley.