"No amount of physical contact could match the healing powers of a well made cocktail"
— David Sedaris
Here in the High Country we're blessed with  oodles of fresh, natural produce - from flourishing crops and healthy livestock right down to delicate botanicals, so it's no surprise you can easily find a mean cocktail.
The best place to start is always at a distillery (or winery if you're keen to try a Rutherglen Muscat cocktail) itself. Here, you can speak directly with those who know the product inside and out, enjoy a house-made cocktail and take a bottle home to experiment yourself.
At Reed & Co. Distillery  Hamish Nugent and Rachel Reed are the brains behind the bottle - an initiative that began as a side element to their thriving Hatted restaurant in Bright, Tani Eat & Drink. Quickly, the restaurant gave way to Reed & Co. Distillery where you can now find an impressive collection of quality gins and liqueurs fashioned into delicious seasonal cocktails.
At Billson's in Beechworth you have the opportunity to watch and chat to the distiller, Tony Paul, and his team as they work away in the distillery. Afterwards, head down to the Speakeasy where you can enjoy a carefully constructed cocktail using Billson's Vodka or one of Billson's gins. 
Hurdle Creek Still also offers the chance to see the distillery, but here you can do so at cellar door with a drink in your hand. Distiller Simon Brooke-Taylor will take you through his extensive collection of house-made gins, from Cherry Gin right through to the 100% Australian made and grown Powder Monkey Navy Strength Gin.
Rutherglen is known for its muscat, which is making a refreshing comeback in the form of cocktails. Be sure to visit Warrabilla Wines, Campbells Wines, Morris Wines or All Saints Estate for some of the best.
After visiting even one of these talented makers there's no doubt you'll want to take the experience home - no problem. Here's a list of top Spring cocktails as chosen by each distiller. Enjoy!
Crafty Cocktails for Spring
Ginsecco
This is a simple one for those who love something sparkly! Just add Hurdle Creek Cherry Gin, a few frozen berries and top up the glass with Prosecco - the King Valley is just down the road!
Gin Paloma
A gin paloma is tall and fresh - a perfect welcome to the warmer weather. Just combine one shot of Reed & Co. Distillery gin, a good squeeze of grapefruit and lime, one shot of tequila, a pinch of salt and fill the glass with sparkling water.
Elderflower Collins
A colourful cocktail to impress the masses! Just add 50ml of Billson's Beechworth Gin, 15ml fresh lemon juice and 10ml simple sugar syrup. Combine all in a tall glass. Fill the glass with Billson's Elderflower & Lemon Soda and garnish with a dehydrated lemon and edible flower.
Billson's Raspberry & Pink Lady Apple Spritz
A delicious, fruity and fragrant cocktail for those wanting to change up gin for vodka. Just add 30ml of Billson's Vodka, 45ml Billson's Raspberry & Pink Lady Apple Small Batch Cordial, four fresh mint leaves, two slices of fresh lemon and half a dozen raspberries. Garnish with Pink Lady apple slices and a sprig of fresh mint.
Muscat Fruit Cup ​
For something a little bit different, why not try a Rutherglen muscat cocktail? Rutherglen is widely known for producing the best muscat in the world, with some selling for $1,000 a bottle!
This Spring tipple is made with two handfuls of ice, 60ml Classic Muscat, sliced fruit: lemon, berries, orange, two big sprigs of mint plus some leaves for garnish and 750ml of dry ginger ale. Simply add sliced fruit, sprigs of mint, ice and Classic muscat to a jug and top with the ginger ale. Serve in gorgeous glassware with some mint leaves for garnish.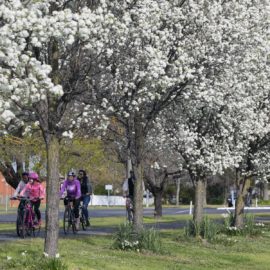 Easy cycle tours for all ages and abilities that give you views as delicious as their stops!