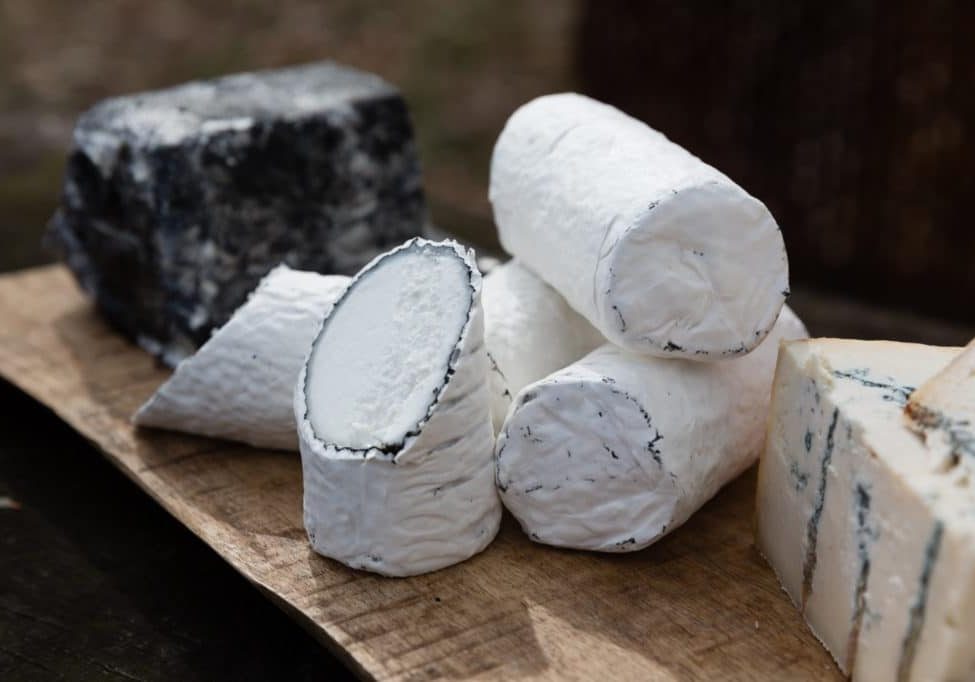 The Perfect High Country Cheese Board
Impress your mates, or maybe just keep your High Country gourmet cheese board to yourself. Either way, you will love touring the region, selecting and sampling delicious cheeses and accoutrements along the way.
The Ultimate High Country Cheeseboard
A High Country cheese board wouldn't be complete, or let's face it, even begun, without a stop to the Milawa Cheese Company. David & Anne Brown founded Milawa Cheese Company in the historic Milawa Butter Factory in 1988, and then they set out to make delicious Australian farmhouse cheeses inspired by European methods.
The King River Gold is a great introduction to the washed rind style. It's one of the first cheeses the family made and is still the most popular. The cheese itself has a soft interior with a slightly gritty rind and a rich, almost smokey, nutty flavour. Now, on to the blue (don't stick your tongue out!) A mild, creamy, blue cheese that has a well-balanced, rich, buttery flavour, Milawa Blue has been converting non-blue eaters since 1988. Inspired by Gorgonzola Dolce, this is the cheese that started it all.
Next stop on our curd journey are the fine folks, and their goats, over at Tolpuddle Goat Cheese & Farm Foods. Every Tolpuddle goat cheese is made by hand in small batches using milk from their gorgeous and cheeky Saanen dairy goats. Tolpuddle is a true "pasture-to-plate" producer using only the freshest milk and traditional methods to produce cheeses of outstanding quality. If you're lucky you might even get to cuddle a baby goat!
Feathertop is a soft, bloomy goat cheese with a delicate paste - and the perfect first cheese. Under the white mould rind is a fine layer of ash made from citrus leaves grown in the orchard on Tolpuddle Farm. The citrus leaves are full of oil, which generates an abundance of smoke as they are cooked down. The result is a fine ash with a subtle smokey flavour that contrasts nicely with the smooth paste of the cheese.
Grown at the base of Mount Buffalo, hand picked in Autumn and brined with love and care by Elise and Colin, the award winning Mt Buffalo Olives stand up in their own right. Not only can you pick up some fruity, bright extra virgin olive oil, spicy dukkah and of course those incredible table olives, Elise also whips up a pretty delightful quince paste to add to the mix.
Koroneiki, Californian Queen, Priola and Hardys Mammoth. Now that's a mouthful...of delicious Italian and Spanish varieties. Grown, hand picked and brined just outside Rutherlgen (the North East's Mediterranean!), Gooramadda Olives have a bit of a cult following around these parts. And it's easy to tell why, the amazing variety and quality of their fruit shine through.
The crew over at Beechworth Honey are also big cheese lovers and produce a specialty range of honey to match with cheese. Creamy Honey & Fig anyone? But it's time to step it up a notch. Straight from the hive to your cheese board, not only will the beautiful Raw Honeycomb balance and elevate the more stinky cheeses on your board, the beautiful comb will be quite the talking point.
You might want to reserve a good wedge of your time for a visit to Indigo Food Co. Not only do these guys have an outstanding range of local and international cheeses, your cheese board will be singing with their selection of pastes, preserves, cured meats, dips and vinegars.  Have the team build you a 'test run' cheese board and perch yourself under a tree, by the beautiful pond on the estate. Practice makes perfect!
And who could go past the local farmers' markets!? It's your one-stop shop for local cheese, fruit, nuts, bread and pastes. And if you're really in the swing of things, there may even be some handcrafted cheeseboards made out of local wood!