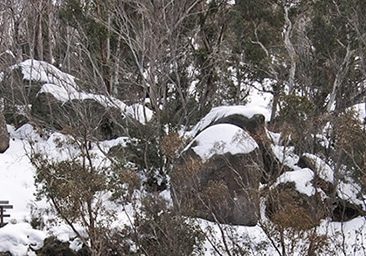 Winter walks at Mount Buffalo National Park
Mount Buffalo National Park might offer some of the best hikes and walks going around during the warmer months, but it's well worth pulling on those winter woolies, and taking in the National Park from a different perspective on these selected walks during the colder months. The crisp alpine air and incredible snow capped views are waiting for you.
For the well-prepared visitor many of our established walking tracks can be enjoyed too, including those listed below:
Please be aware that Mount Buffalo does experience sub zero temperatures and snowfall. Please come well equipped with suitable footwear and clothing. 
The temptation to go for a stroll along a snowy track has proven irresistible for many visitors. However it is important that walkers stay off our groomed and marked cross country ski trails to protect the snow cover and to prevent injury to skiers by ruts caused by footsteps in the snow. This winter Parks Victoria aim to have a marked walking route at both Dingo Dell and Cresta for visitors to enjoy.
Please be aware that limited phone reception is available within the park. All visitors, especially walkers, should note that weather conditions can change rapidly in mountain and alpine areas and snowfalls can be experienced at any time of the year. Always be prepared with:
Wind and waterproof jacket, warm clothing, woollen hat, gloves, sunglasses and sunscreen
Sturdy footwear
High energy food and water
Strong and sturdy footwear and a first aid kit
Compass and relevant topographical map
Always let someone know before you head off on your trek, and alway carry a map.
Off-track walking, beware of hidden creeks. Stay on marked pedestrian tracks and don't be tempted to take a short-cut from the car park to the toboggan slope as the snow cleverly conceals creeks and wet areas.