Before making the tree change and becoming full-time cheesemakers, life in Melbourne was pretty hectic for Melissa Jacka and her husband Donovan; both were working in demanding roles and juggling family life with two small children. The pair wanted to create a better quality of life for the whole family. Each time they escaped Melbourne for a long weekend getaway, the family would daydream about making a tree change. Those daydreams eventually evolved into a plan. The pair did lots of research and training (and taste testing!) over a period of almost 5 years before they purchased a farm in the pretty High Country pocket of Tarrawingee, a stone's throw from the rural city of Wangaratta. Now the pair has reached the stage where both are working full-time in their business, Tolpuddle Goat Cheese & Farm Foods. In the words of Melissa "It is wonderful. We haven't looked back!"
Spring means many things to a cheese maker…
We stop milking our goats and making cheese over the coldest Winter months (July and August) to give our girls some time to rest during the final stages of pregnancy. Spring signals the beginning of our production season. In early September, as the daylight hours increase and the cold weather lifts, kidding begins. With the arrival of baby goats and lush green pastures the milk starts flowing and cheese production resumes.
Fresh goat cheeses produced in Spring are very delicate and have a fresh grassy, herbaceous flavour. At this time of year, more than any other, what you see in the paddock you can taste in the cheese. Whey from cheeses produced in Spring is the most vibrant lime green and the fresh milk and cheese is bright white.
In Spring, the milk itself has a weak structure. It is much higher in soluble protein, which makes sense as it's easier for the newborn kids to digest. However, with a very weak curd, Spring milk is not suited to making mature goat cheeses. Rather than try to modify or standardise the milk to make our full range of cheeses, we work with the seasonal variation and just produce fresh cheeses in the early stages of the lactation cycle.
Spring not only means a more active farming and cheesemaking schedule, you would see more visitors to your property and at the local farmers' markets?
Springtime is certainly the most popular time for visitors to our farm. The lush green paddocks, Spring bulbs and baby goats frolicking in the paddocks are very inviting – along with the first cheeses of the season. We love seeing visitors relaxing in the garden with a platter of cheese, glass of local wine and a baby goat on their lap, just soaking up the sunshine. At the farmers' markets, Spring is also the time when market-goers come out of hibernation and socialise, catching up with producers, family and friends.
Where is your favourite High Country place to sneak away to in Spring?
In the Spring we love driving into the King Valley, taking a walk through the bush to Paradise Falls before sitting down for a long lunch at one of the many fabulous wineries. In reality, with 40+ babies being bottle fed 3-5 times per day, there's not much opportunity for family days out in Spring!
You must have a favourite local drop to enjoy with each and every one of your cheeses? Can you share a couple of the best combos?
A simple platter of our Ashed Chevre with some local olives and a glass of Prosecco (we love Sam Miranda King Valley's) always goes down a treat. We've found that beer and cheese pairings seem to work better than wine. Our semi-hard goat cheese Ned is fantastic with the Chestnut Pilsner from Bridge Road Brewers. Our newest cheese Bulldog Blue is sensational paired with King River Brewing's Fig Porter.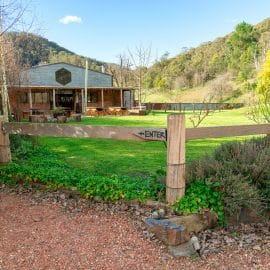 Billson's Brewery and Mitta Mitta Brewing Co. have officially joined the High Country Brewery Trail! The newcomers bring fresh, new perspectives on beer, fantastic (and very different) venues and a swag of delicious beers to try. For those with a passion for history, Billson's will surely satisfy and those interested in finding that 'taste of place,' Mitta Mitta is your next stop.