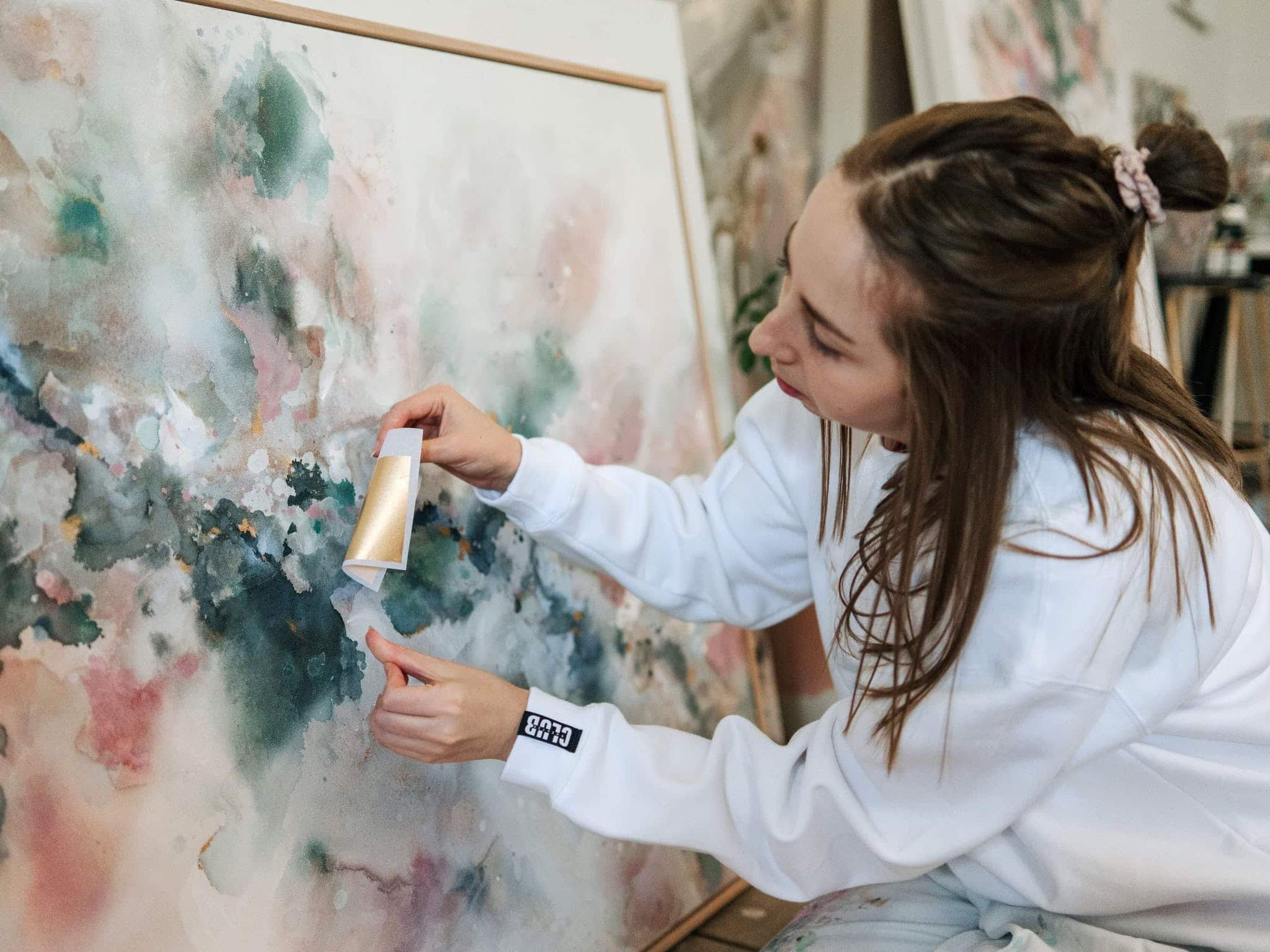 [ error getting the field, possibly not existing on this postid: 210741 ]
Fern Siebler is an abstract artist who grew up locally in Taggerty, in a home hidden amongst bushland at the base of the Cathedral Ranges. Fern describes growing up in the beautiful town as the beginning of her passion for all things creative, and when her love of the earth, colour, light, and the flow of nature began.
"I am inspired by nature and also draw from my own personal experiences, allowing the emotions, memories, feelings to guide my intuitive painting process. My artworks across all mediums are expressive and full of movement. When I paint I pour my heart and soul into the artwork."
Fern's works have been featured several times on popular renovation shows 'The Block' & 'House Rules'. She collaborated with beauty empire 'Ella Bache', and several of her works hang proudly in the newly built Crown Sydney. Her works are in collections across Australia and internationally.
'The place I call home' exhibition includes a collection of original abstract works heavily inspired by Fern's memories of growing up in the local area. Some of her favourite things are the sunlight at golden hour, the stars and the night sky, mountains at sunset, and the sounds of the birds. At her exhibition she hopes to bring you a sense of nostalgia, an air of warmth, and most of all – feelings of home.
15 Aug 2022 10:00:00 16:00:00
16 Aug 2022 10:00:00 16:00:00
17 Aug 2022 10:00:00 16:00:00
18 Aug 2022 10:00:00 16:00:00
19 Aug 2022 10:00:00 16:00:00
20 Aug 2022 10:00:00 16:00:00
21 Aug 2022 10:00:00 16:00:00
22 Aug 2022 10:00:00 16:00:00
23 Aug 2022 10:00:00 16:00:00
24 Aug 2022 10:00:00 16:00:00
25 Aug 2022 10:00:00 16:00:00
26 Aug 2022 10:00:00 16:00:00
27 Aug 2022 10:00:00 16:00:00
28 Aug 2022 10:00:00 16:00:00
29 Aug 2022 10:00:00 16:00:00
30 Aug 2022 10:00:00 16:00:00
31 Aug 2022 10:00:00 16:00:00
1 Sep 2022 10:00:00 16:00:00
2 Sep 2022 10:00:00 16:00:00
3 Sep 2022 10:00:00 16:00:00
4 Sep 2022 10:00:00 16:00:00
5 Sep 2022 10:00:00 16:00:00
6 Sep 2022 10:00:00 16:00:00
7 Sep 2022 10:00:00 16:00:00
8 Sep 2022 10:00:00 16:00:00
9 Sep 2022 10:00:00 16:00:00
10 Sep 2022 10:00:00 16:00:00
11 Sep 2022 10:00:00 16:00:00
12 Sep 2022 10:00:00 16:00:00
13 Sep 2022 10:00:00 16:00:00
14 Sep 2022 10:00:00 16:00:00
15 Sep 2022 10:00:00 16:00:00
16 Sep 2022 10:00:00 16:00:00
17 Sep 2022 10:00:00 16:00:00
18 Sep 2022 10:00:00 16:00:00
19 Sep 2022 10:00:00 16:00:00
20 Sep 2022 10:00:00 16:00:00
21 Sep 2022 10:00:00 16:00:00
22 Sep 2022 10:00:00 16:00:00
23 Sep 2022 10:00:00 16:00:00
24 Sep 2022 10:00:00 16:00:00
25 Sep 2022 10:00:00 16:00:00
26 Sep 2022 10:00:00 16:00:00
ID: 6285c62f3c6155336f41945d