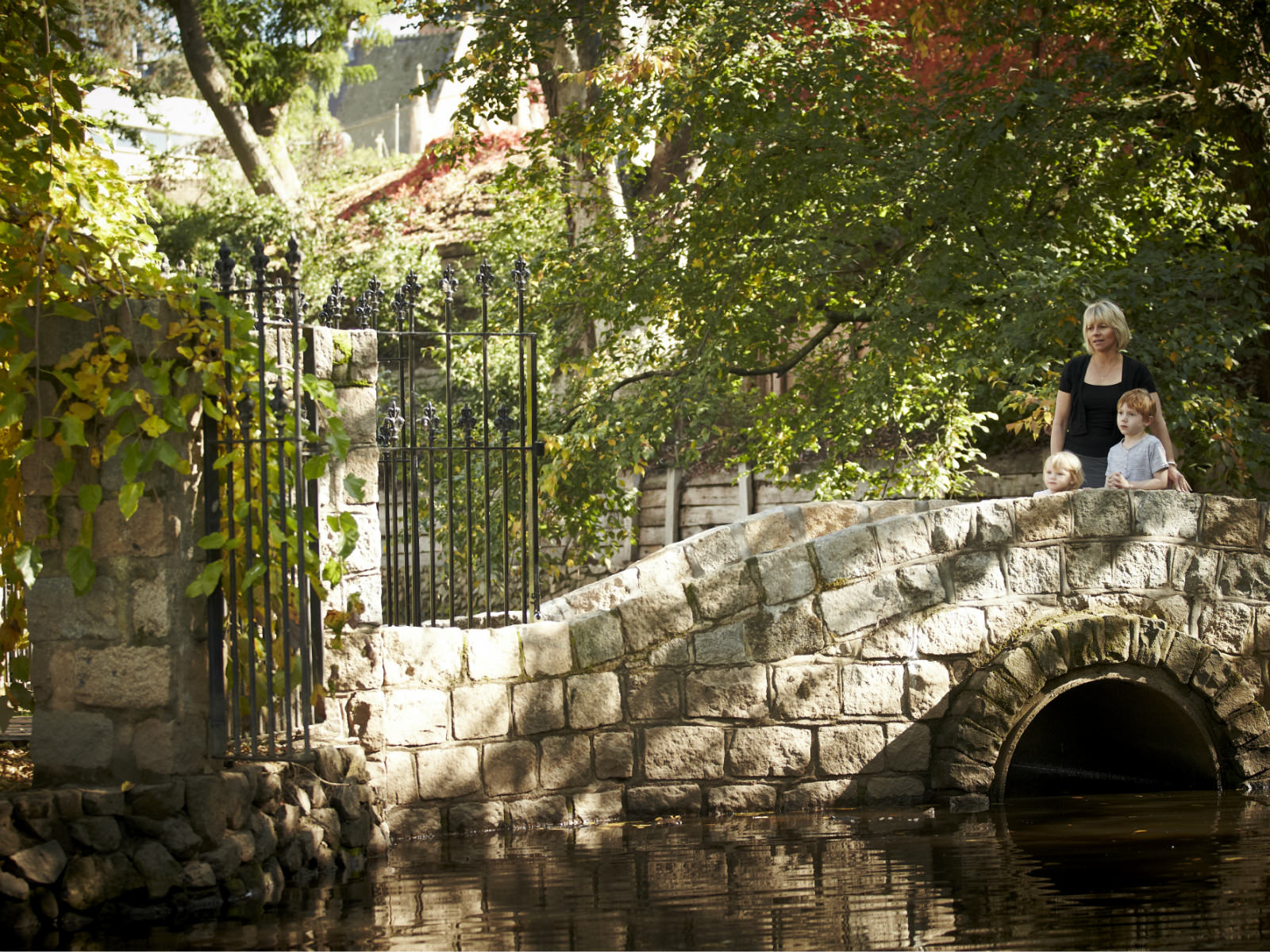 Merriwa Park is a beautiful park featuring a majestic stand of redgums in sweeping lawns.
Originally named "Merriwa Gardens", the name Merriwa is thought to be an aboriginal term meaning "rich flat ground at the bend of a river."
Many of the River Red Gums (Eucalyptus camaldulensis) still seen in the park today were planted as an official opening in August 1905, however many trees date further back and some trees have since self sown.
In 1905 the park was the town's main recreational reserve with a play area along with the town swimming pool. This was located within the King River (in Merriwa Park) which supported the Merriwa Swimming Club till the 1950s.
In the early 1940's Merriwa Park extended its recreation facilities to establish tennis courts. The encircling lagoon that is a key feature of the park was created in the 1950s when a levee was built to control the flow of the King River, diverting it mainly into Kaluna Park, which continues as a natural reserve today.
Merriwa Park continues these traditions today with BBQs , a children's playground, the lawn tennis courts in a relaxing setting.
Kaluna Park is a natural partner of Merriwa Park consisting of bush walking tracks and a great place to view local indigenous plants.
The river redgums in Kaluna Park date back hundreds of years with many hollows supporting a range of fauna including the rare Barking Owl, possums and gliders.
This wonderful riparian reserve is the centre piece of Wangaratta's natural features. Lagoons meander across this floodplain area supporting a range of aquatic and land life. The area is rejuvenated by natural flooding, bringing a huge variety of birds to the area.
For over 10 years the Wangaratta Urban Landcare Group has been actively 'bush regenerating' this reserve, transforming it from an impenetrable weed wasteland to a network of access pathways through the majestic old red gums and their diverse understorey. A walk in Kaluna Park will always bring new sights of birds and animals.
Merriwa Park and Kaluna Park can be accessed from Ryley Street Wangaratta.