Tucked in behind the Pizzini Wines Cellar Door in the heart of the King Valley, you'll find a smiling Katrina Pizzini sharing her considerable culinary talents at A Tavola!, Katrina's popular cooking school.
Full of warmth and generosity, Katrina welcomes you into her world, where seasonal ingredients, classic skills and sharing the end result with loved ones, are paramount.
At A Tavola! you'll learn traditional Northern Italian recipes, passed through the generations. With new skills and new found friends, take a seat around the dining table to enjoy your hard work, paired of course, with delicious Italian style wines.
Now that Spring has well and truly sprung in the King Valley, Katrina shares with us why this is one of her favourite times of the year, her love of cooking and why the King Valley is such a special part of the High Country.
Where did you learn your incredible cooking skills?
For the first 12 months of my marriage, I lived with my husband Fred in a Granny Flat that was part of the family home. I learned a lot from my mother-in-law, Rosetta. She had worked in a hotel kitchen in Northern Italy from the age of 15 to 22 and was an amazing cook. She taught me the techniques she had learned to help build flavour and texture. Learning how to use Mediterranean herbs was invaluable.
My father-in-law Roberto's favourite saying was "there is something missing in this dish." This taught me to look for and recognise that "missing ingredient" in my own food and helped me to balance the flavours. I have cooked constantly since then and now have the opportunity to pass on my knowledge to participants in my cooking classes.
What are your favourite springtime ingredients?
Artichokes, asparagus & Italian salad. We have them growing in our garden and they are such a treat. Artichokes are so good for you as they are full of iron. I love the bitter flavours and the simplicity of cooking them.
Asparagus is unique and delicious. Again simple to cook, just blanch in salted, simmering water till al dente, drain and dress with a vinaigrette. Homegrown asparagus tastes more minerally than shop bought.
We sow the seeds of Italian salad and within a few short weeks are cutting the leaves when they are about 12cms high. They continually re-grow with the warmth of Spring so we have fresh lettuce leaves well into Summer.
What is your favourite springtime recipe?
Cooked artichoke hearts sprinkled with salt and pepper and drizzled with delicious olive oil.
Preparing and eating with my family, it is always a celebration no matter how simple the meal.
What do you think makes the King Valley so special?
It is special because the King River flows down a true valley, every little region of the valley has its own personality. The climate is beautiful with very little harsh weather. The cold mornings in winter are softened by glorious sunshine. The hot days in summer are cooled by the southerly breezes from the mountains and the autumn and spring months are glorious.
The soils grow delicious and well- structured fruit & vegetables - the balance of acidity to sugar is found not only in grapes but in our fruit and vegetables as well. For many generations farming, business and recreational tourism has had its place in the King Valley. The river flows constantly and is abundantly stocked with fish and there are lovely tracks to walk. The accommodation houses, cellar doors and restaurants are making it an easy choice to make a beeline for the valley.
Why is Spring such a special time of year?
Spring brings a promise of a fresh, new vintage and the warmer weather brings an abundance of new and old visitors.
What is your favourite wine to sip on in Spring?
Pinot Grigio. It is such a lovely, well balanced wine you don't need to think and analyse, you just enjoy.
Where do you tell your friends and family to eat when they're visiting you?
The Mountain View Hotel is part of the Pizzini business, local ingredients are sourced where possible by our very talented chefs to give diners a wonderful choice of wholesome and flavoursome dishes.
What is your idea of the perfect dining experience?
Preparing and eating with my family, it is always a celebration no matter how simple the meal.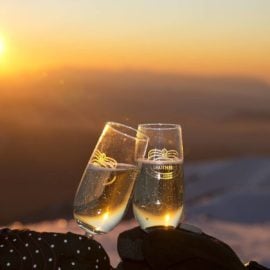 When it comes to Winter, trust these wineries to serve you the very best in big reds, fortifieds and full bodied chardonnays.