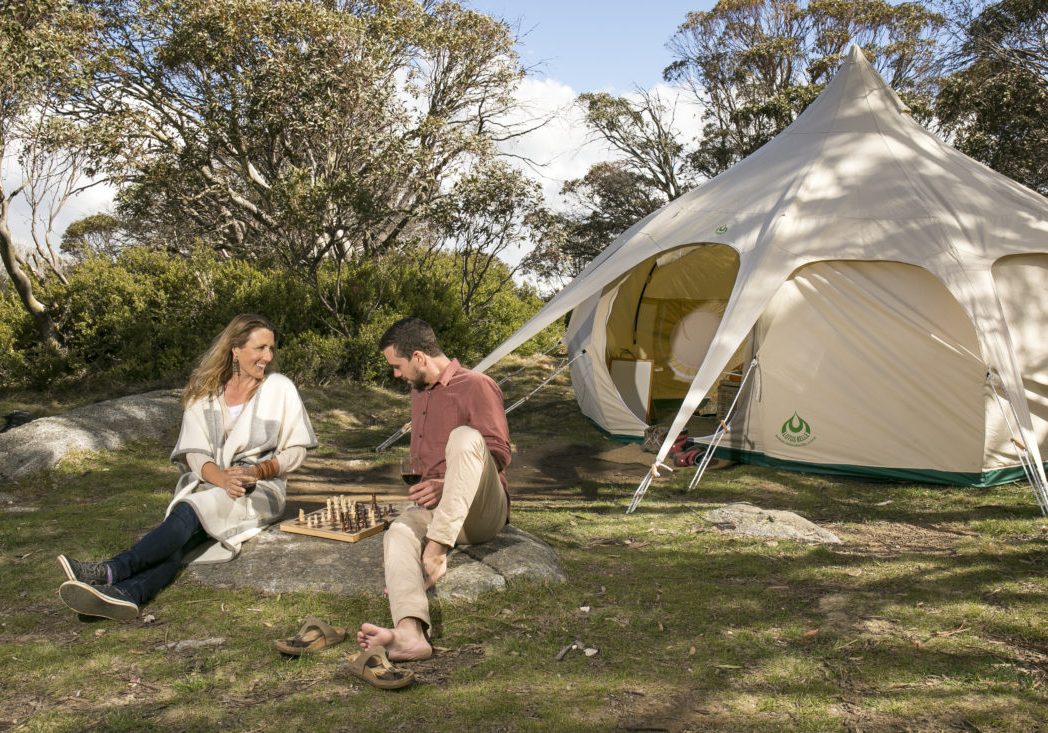 You've probably heard the word 'glamping' bandied around over the last few years. You may have seen beautifully styled Instagram photos of giggling of girls and cushy couples cheersing Prosecco in tents fit for royalty. 'Is that what glamping is really like?' you ask skeptically. In the High Country - oh yes! 
Urban Dictionary sums it up best ...
"Glamping: Glamorous camping; satisfying your craving for the outdoors and your penchant for a good meal, nice glass of wine, and a comfortable bed."
When you glamp in the High Country you can expect, diverse, magnificent views, delicious local wine, carefully curated seasonal food, luxury bedding and proximity to some of the best restaurants, wineries, distilleries and breweries in the country.
If you have a girls weekend, special anniversary or even a proposal coming up, look no further ...
Valley View Glamping in the heart of the King Valley - Valley View Caravan Park owner  Sue Remman
What can people expect when they glamp with Valley View Glamping?
It's an up-market way to camp. If it's your first time camping you have the comforts of home like a Queen bed with some gorgeous linen and styling. You arrive, it's all set up for you and you don't have to worry about packing it up!
With our package you receive a bottle of Prosecco and two flutes on arrival, plus two $50 vouchers for Whitty Cafe for breakfast both mornings. There's also the option for a voucher for Dal Zotto or Mountain View Hotel and you can also add on a fire drum and firewood if you want a campfire.
What's great about glamping with Valley View?
It's all about the location. Guests are so close so they don't have to drive or have a designated driver, it's quiet at night in Whitfield so you never have to worry about noise, our sites are big so if we have a few people we can spread them out and they can have their own little area, and we also have sites that are situated along the valley so they get the mountain view which is just lovely this time of year with all the blossoms out. 
Why go glamping in Summer?
The evenings are lovely - who doesn't want to enjoy a cold glass of Prosecco on a Summer night?
Quiet, secluded and unique: Yarranungara Yurt Retreat - Owner Sharon Jarrott
Where did you get the idea to create a yurt retreat?
I didn't even know what a yurt was but we have a property with great views and I wanted to build something that we could take our friends up to and look at the views. A friend of mine who worked in Mongolia said 'well why don't you buy a yurt?' and I said 'what's that?' I started researching them and I just fell in love with them. Now I've been to mongolia a couple of times and I import them to sell as well. 
What is a yurt?
It's what they live in in Mongolia - the round tents. Mongolians been living in them since the 12th century. Genghis Kahn won the wars because he had yurts - he was able to mobilise his army really quickly because he had them on the back of ox carts and he could move his army around. 
What can people do from the yurt?
It's great because you have everything there. Normally if you go camping you've got to pack everything but here you have an outside fire - when the weather is right, a rustic shower and you've got that feel of camping but a really comfortable bed in a nice cosy yurt. 
It's BYO food, but most people like to go to the wineries, they go to the cheese factory, they like to go to Paradise Falls, Powers Lookout. A lot of them go to Gracebrook Winery or Chrismont. 
What sort of outlook do people have from the yurt?
They have fabulous views - it's right up on top of a mountain ridge. You go up on top of a dirt road to get there so you're wandering up through the bush and then you burst onto this plateau. At one point you have a 360 degree panorama where you can see down into the King Valley and the Myrrhee Valley, you have views of the snow on the mountains - you can see Buller, Buffalo and Falls Creek.
Why is Summer a great time to visit the yurt?
It's lovely sitting up at the yurt on a Summer night. You can have a glass of wine and listen to the sounds of silence. You have no neighbours or anything, it's very quiet and secluded. 
The yurt has a glass dome so you can see the stars. It's actually lined with half an inch thick pure wool felt all the way around so that keeps it really well insulated in the Summer and Winter. 
You can also go to the King River or the Rocky Hole, which is an isolated rock pool tucked away in the middle of the bush. People with four wheel drives can go up there and have a swim.
Grapevine Glamping at Cofield Wines, Rutherglen - Pickled Sisters owner Marion Hansford
How did Grapevine Glamping come to be?
It's a joint project between myself from The Pickled Sisters Cafe and Melanie Cofield from Cofield Wines. We both independently looked at expanding our businesses and glamping really seemed to fit in the vineyard setting.
What sort of outlook do glampers get with Grapevine Gampling?
The tents are only 100m from the cellar door cafe but if you don't know they're there you'd never find them. They're looking right at the vineyard where a lot of the grapes are picked in their wines, and you get those beautiful sunsets in the evening. Guests can be tucked away and have a really private experience or they can come and be involved with tastings at the cellar door, eating at the restaurant and getting out and exploring - it's up to them.
What do people eat when they go Grapevine Glamping?
Guests get a bottle of wine on arrival and breakfast is included - a real gourmet treat. They can come down and eat at the cafe or we can deliver a lovely basket of fruit, yoghurts and danishes. Doing a cook up on the barbecue yourself is an option we well and of course we deliver coffee in the morning - it's very important to have that early morning coffee!
Guests can also add extras on - our dinner hamper is the most popular with antipasto, terrine and chutney, we do a lovely local beef with bearnaise sauce and chef's salad, smoked salmon and cake to finish.
It's a combination of the food, the wine and the glamping set up. We do say it's a real gourmet getaway - it's not just the glamping, it's the food and the wine too. Being able to sit out there, enjoy the produce, look out to the vines and enjoy great wine and food.
How does one gamp best in Summer?
Summer is a little warmer, of course, so we have split systems. While during the day the heat can be a challenge, we encourage people to press go and head off to laze by the river, which is only 5 mins away.
The split system does keep you comfortable at night. Then you can get the humming of the cicadas at night and that real Summer, Australian feel!
Alpine Glamping on top of the world, Falls Creek - Diana Alpine Lodge owner Lisa Logan
Who should go Alpine Glamping?
We're mainly targeting couples particularly because of the type of glamping we're offering. It can also accommodate families that are experienced with the outdoors and hiking so they can walk from location to location and not have to drive it there or cart equipment.
What's the location like?
We have two different campsites based on what the weather conditions are, what the customer wants to do and how popular a campsite is. We prefer to use the one in Pretty Valley because of its beautiful vistas but it's very popular, particularly when there's people there with horses. It's nice for some people but if they want a quieter location there is one that might be a bit warmer and have more trees around it.
What food and drink do you offer?
We prepare things focused on local produce - a continental breakfast that's set up so there's no cooking required for guests, and they might hike out to the location so we can give them a packed lunch as well. For the evening there's two options - one, if the guest is prepared to pay extra, a chef will come out to cook for them, otherwise we can arrange for them to have a hearty picnic. 
What's great about glamping in Summer?
December is usually the best time to come with the wildflowers coming out, but there's also a lot that come out later in the season too!