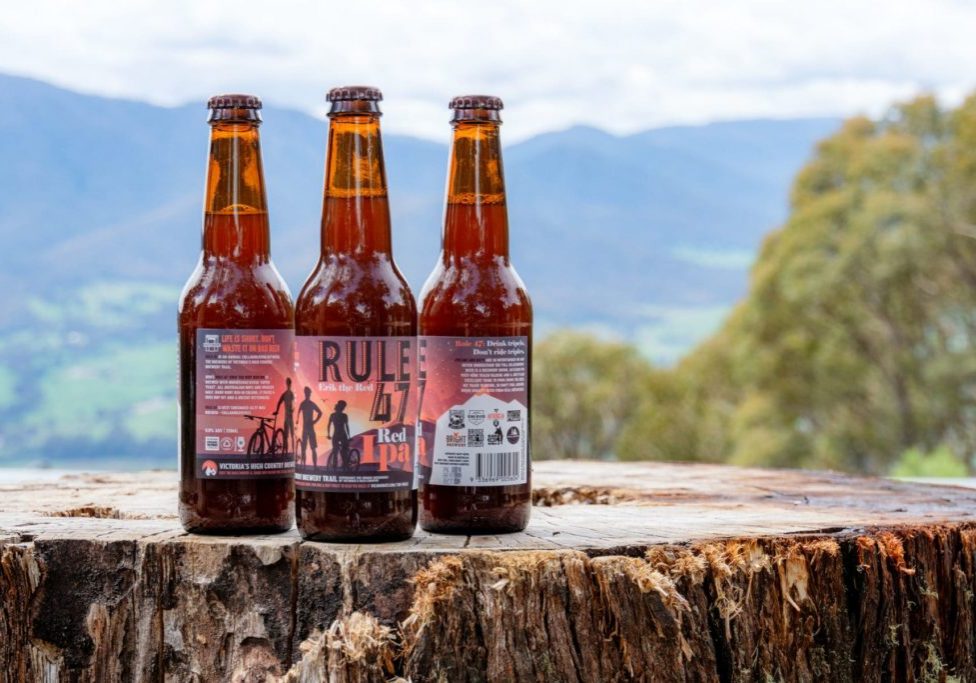 High Country Post-Ride Elixir
"Cycling and beer are so intertwined we may never understand the full relationship. Beer is a recovery drink, an elixir for post-ride trash talking and a just plain excellent thing to pour down the neck." - excerpt of Rule 47 from The Velominati's The Rules of cycling etiquette.
Rule 47 - it's no surprise that a beer made by nine breweries from Victoria's High Country bears such a name.
This annual release is a collaboration between the members of the High Country Brewery Trail, consisting of Black Dog Brewery, Blizzard Brewing Co, Bridge Road Brewers, Bright Brewery, Rutherglen Brewery and King River Brewing, along with new Trail members Billson's Brewery and Mitta Mitta Brewing Company.
The resulting beer - Rule 47 - represents the physical and philosophical connections of the High Country Brewery Trail.
Across the Brewery Trail's home of North East Victoria, there is no more prominent connection than the roads, paths and tracks between each brewery. The rise in popularity of these connecting roads with visiting cyclists has seen the region declared as 'Australia's premier cycling destination'.
According to James Dittko, head brewer at Bridge Road Brewers, cycling and craft beer have a natural connection.
"They go hand in hand," James said.
"Cyclists are passionate about quality experiences, both on the road and with the drinks they consume. They have a nice bike so they want a nice beer."
An old but new yeast for Rule 47
Every winter the High Country brewers gather to create a new beer, which is then released in time for the peak cycling seasons of spring and summer.
The brewers work together to plan a new recipe, share expertise and encourage innovation with local ingredients. They collaborate to create a beer with bold flavours and a unique High Country twist, resulting in the "good beer" elixir of which The Velominati preach.
For the 2019 release, the consensus was to brew a delicious Red IPA using the Norwegian Kveik yeast strain.
"It's a yeast strain that has been around for centuries," Bright Brewery head brewer Reid Stratton explains.
"The yeast was handed down from farm homebrewer to farm homebrewer over generations but has only recently come to the attention of the wider brewing world. It quickly gained a reputation as a good yeast for brewers to play around with.
"The reason it has become popular is that it behaves in a different way to most yeast strains.
"I think of most yeast strains as thoroughbred horses, they are really good at doing one job but don't perform too well outside of their comfort zone, but Kveik is the opposite. It is really versatile and can survive both hot and cold conditions. It can go dormant for years and then wake up and happily ferment again."
Resilience is an important factor for High Country breweries, where the climate can be wild and extreme, with very hot summers and snow inducing winters.
"Kveik yeast can ferment at very hot temperatures, such as 40 degrees, and it can complete the fermentation process within two days, compared to seven days for ale yeast or 28 days for lager yeast. It still tastes very clean and fresh under all fermentation conditions," Reid said.
Making a collaboration beer
Each year a different brewery brews the collaborative Brewery Trail beer. This year the honour fell to new Trail member, Mitta Mitta Brewing Company.
With a snow-laden Mt Bogong overlooking the Mitta Valley, the brewers gathered around Mitta Mitta's small hand-built brewhouse on a sunny August day and worked together to brew the best beer possible.
"To get together and promote each other this way is a really good thing," Mitta Mitta brewer Tim Cabelka explained.
"We love the unique landscape around us here in Mitta, which adds to the diversity of offerings when you visit the Brewery Trail."
Malt from Voyager Craft Malt, an Australia artisan malt producer favoured by Tim, provides a robust ruby red hue for the beer. Vic Secret hops grown in the alpine valleys by Hop Products Australia add extra local flavour to the brew.
Now available from each of the High Country breweries, this Red IPA is a clean and smooth drinking experience, with flavours of melon and stonefruit supported by a full body and lingering fruity finish of fine bitterness.
What's special about the High Country Brewery Trail?
When asked what makes High Country breweries and beers so unique, the brewers all respond in unison that the region's alpine environment and landscape offers an experience like no other in Australia.
"The pristine environment and the way the experience we offer in our breweries, with the refreshment of our brews, resonates with the people that come up here for recreation," Blizzard Brewing Co's owner and founder Mark Hubbard explained.
"People come for biking and hiking in the summer and skiing in the winter, all the alpine activities, and they love a beer afterwards."
Blizzard Brewing Co sits at the bottom of Dinner Plain's ski run, so during winter you can ski to the brewery. In summer, Dinner Plain is a finishing point for one of the mountain climbs that forms 7 Peaks Ride, a popular alpine ascent cycling challenge which occurs every October to April. An often underestimated road climb from Omeo to Dinner Plain, visiting Blizzard Brewing Co is a welcome reward for many who complete the ride.
It's a similar story for all nine High Country breweries, each marking a waypoint of significance for those visiting the region for outdoor activity and adventure. Combining cycling and locally crafted beer is only part of the story, explains Bright Brewery owner and founder, Scott Brandon.
"The High Country Brewery Trail and our collaboration beer help with the overall tourism appeal and offering for visitors to the North East Victoria region," Scott said.
"It shows visitors that there is more on offer in the region. If they buy a Rule 47 or come to our brewery, they'll see that there are not only other breweries to visit while you're here but also other artisan producers and many outdoor activities to try."
Ultimately, the brewers of Victoria's High Country want drinkers to remember one thing when sharing this beer, which comes back to the Velominati's Rule 47 and is a sentiment they hope will hold true the next time you visit the region...
"Drink quality beer from real breweries. If it is brewed with rice instead of malted barley or requires a lime, you are off the path."
Rule 47 is available from the breweries of the High Country Brewery Trail.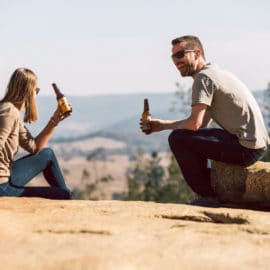 With Summer in full swing, let's open up our minds, and palates, to these interesting beer styles.