High Country Brewery Trail
A scenic journey to High Country craft beer
Each September for the past seven years, High Country brewers have gathered at one of the region's famous craft breweries to work side-by-side, pooling their knowledge and experience to create a special signature collaborative ale under their own Rule #47 label.
This year, the brewers have instead thrown their collective efforts into producing ​Collab Cases featuring ​selections of standout beers from Bright Brewery, Blizzard Brewing, Black Dog Brewery, Bridge Road Brewers, King River Brewery, Mitta Mitta Brewing Co and Billson's Brewery.
Choose from three Collab Cases of fine seasonal and limited-release beers, plus a couple of core faves:
Dark & Stormy, ​24 x Dark and decadent beers featuring a delicious selection of Porters, Stouts, Black Ales, Dark Lagers and Doppelbocks
Light & Bright​,​ ​24 x Pale beers. A vibrant selection of Ginger Beer, Fruited Sours, Hoppy Ales, IPAs, and more.
​Mix It Up​ (half dark/half light), 24 x beers - half dark / half light. The perfect mix of dark and decadent beers, with light, fruity, sour, hoppy and vibrant brews to balance it all out.
Extending from the rivers to the mountains, Victoria's High Country Brewery Trail is a scenic drive to some truly lip-smacking hand-crafted beers. Our local breweries are family-friendly with have relaxing outdoor areas and, most importantly, knock-out menus featuring food that matches perfectly with a lager, ale, stout or sour.
See close up where the beers are brewed. You might even learn a secret or two from talking to the brewers themselves.
This crafty bunch also get together once a year to brew a beer together, reflecting the trails, roads, rivers and flavours that connect them across North East Victoria. Generally released in October, you may want to time your visit to sample this annual collaboration beer at the source.
From snow capped peaks to green valleys, the Trail will take you through some of the High Country's most beautiful countryside
The beauty of the High Country Brewery Trail is that you can set your own pace. Visit a handful over a day, fill it out to an action-packed weekend, or really give it your 100% attention and spread it out over a week. Our brewers will be here, waiting, making delicious brews for you.
Our weekend itinerary will have you tasting all eight High Country Brewery Trail beers, along with stunning scenery, fantastic food and maybe even a tour or two. It's worth calling ahead to check opening hours and to make a booking for the tours. Of course, drink responsibly, and make sure you've nominated (dobbed in) your designated driver to get you safely from A to B to C....
Weekend Itinerary
Day One
One of the most scenic drives in the High Country, the road from Mansfield to the King Valley will have you twisting and turning over the hills and down into the valley. Tucked in the heart of this famous wine region is King River Brewing, with six rotating taps featuring their latest fresh brews.
Next stop: Taminick, 60 km (45 min)
Black Dog Brewery's handcrafted small batch brews are made using traditional techniques with no preservatives to ensure each beer is of the highest quality. You can enjoy their brews on tap on Saturday and Sunday in the 100-year-old cellar door building at the family's historic Taminick Cellars.
Next stop: Rutherglen, 62.7m (53 min)
In the historic township of Rutherglen, smack bang in the middle of the main street you'll find the aptly named Rutherglen Brewery. The beers are lovingly handcrafted in small batches on site, with full-bodied flavours and hop profiling to reflect seasonality.
Next stop : Beechworth 44.3km (36 min)
After winding up through the Woolshed Valley, you'll arrive at the acclaimed Bridge Road Brewers. Housed in a 150-year-old Coach House and stables, the brewery offers at least eight different ales for tasting, and each of those has at least one international beer award to its name.
Next stop: Beechworth, 850m (just 2 minutes!)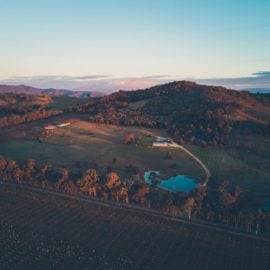 Escape to the source and let the High Country feed you. You will be welcomed with open arms, and won't be left hungry.