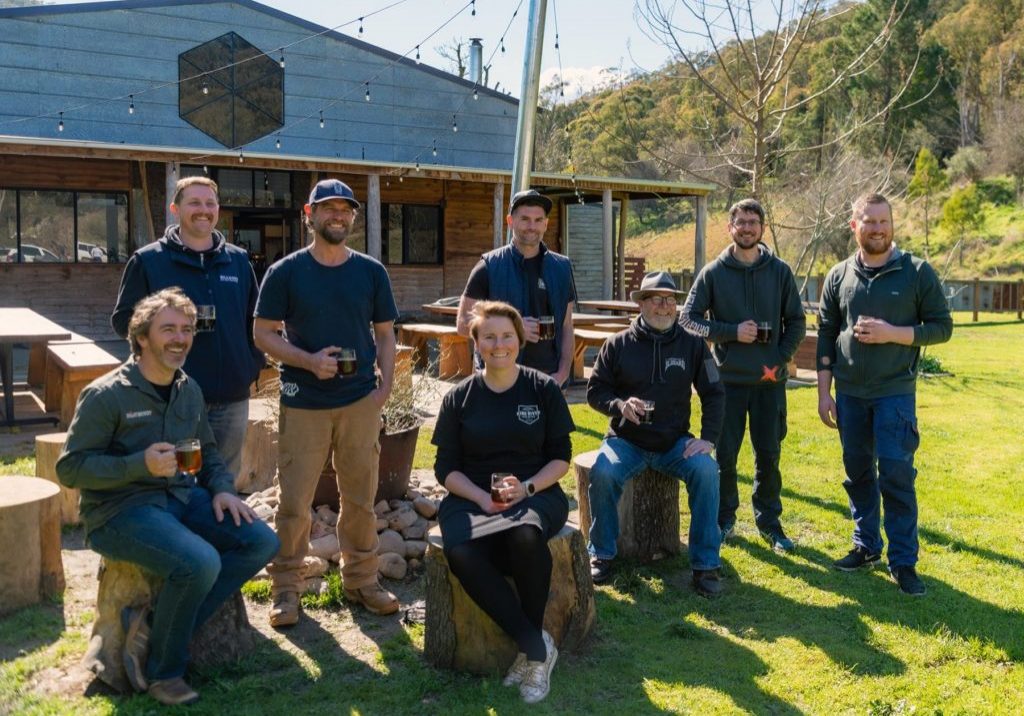 High Country Brewery Trail
Extending from the rivers to the mountains, Victoria's High Country Brewery Trail is a scenic drive to some truly lip-smacking hand-crafted beers. Our local breweries are family-friendly with have relaxing outdoor areas and, most importantly, knock-out menus featuring food that matches perfectly with a lager, ale, stout or sour.
See close up where the beers are brewed. You might even learn a secret or two from talking to the brewers themselves.
This crafty bunch also get together once a year to brew a beer together, reflecting the trails, roads, rivers and flavours that connect them across North East Victoria. Generally released in October, you may want to time your visit to sample this annual collaboration beer at the source.
The beauty of the High Country Brewery Trail is that you can set your own pace. Visit a handful over a day, fill it out to an action-packed weekend, or really give it your 100% attention and spread it out over a week. Our brewers will be here, waiting, making delicious brews for you.
Our weekend itinerary will have you tasting all eight High Country Brewery Trail beers, along with stunning scenery, fantastic food and maybe even a tour or two. It's worth calling ahead to check opening hours and to make a booking for the tours. Of course, drink responsibly, and make sure you've nominated (dobbed in) your designated driver to get you safely from A to B to C....
Weekend Itinerary
Day One
One of the most scenic drives in the High Country, the road from Mansfield to the King Valley will have you twisting and turning over the hills and down into the valley. Tucked in the heart of this famous wine region is King River Brewing, with six rotating taps featuring their latest fresh brews.
Next stop: Taminick, 60 km (45 min)
Black Dog Brewery's handcrafted small batch brews are made using traditional techniques with no preservatives to ensure each beer is of the highest quality. You can enjoy their brews on tap on Saturday and Sunday in the 100-year-old cellar door building at the family's historic Taminick Cellars.
Next stop: Beechworth, 61km (46 min)
After winding up through the Woolshed Valley, you'll arrive at the acclaimed Bridge Road Brewers. Housed in a 150-year-old Coach House and stables, the brewery offers at least eight different ales for tasting, and each of those has at least one international beer award to its name.
Next stop: Beechworth, 850m (just 2 minutes!)
Weekend Itinerary
Day Two
Billson's is just two streets away from Bridge Road, so there's no excuse not to visit! And why wouldn't you? The brewery beautifully showcases its historic roots in everything from the 1865 building to the recipes and labels it produces. Built on a natural spring, for which water is sourced for all Billson's beverages, it offers everything from classic sodas like portello, raspberry vinegar and lemonade, to cordials, tonic and sparkling waters, gin and, of course, fantastic beer.
Next stop: Mitta Mitta, 101km (1h, 17 min)
Back down the mountain and admittedly a bit of a drive (but an extremely scenic one!) your next stop is Mitta Mitta Brewing Co. The team behind the beer grow their own hops onsite without the use of chemicals, source malt predominantly from Voyager Craft Malt (a local single origin, small batch, craft malt house) and draw water directly from the property. A refreshingly clean and local beer-sperience to add to your journey!
Next stop: Mt Beauty, 108km (1h, 21 min)
Named after the home-made grain crusher Mick Piera and his two sons worked when he first began brewing beer, Crank Handle Brewery is brand new to the High Country Brewery Trail. Mick has since done away with the actual 'crank handle' part of the grain crusher (his boys used to complain about) and opened the brewery in December 2019. Crank Handle offers six different beer styles (and you can get a mean meal here too!)
Next stop: Bright, 29km (30min)
Overlooking the stunning Ovens River, your final stop - Bright Brewery - boasts one of the most picturesque and relaxing locations along the trail. Factor in a little extra time here as there are 24 taps to choose from, brewed with sustainable practices…lucky there is an extensive menu to help you get through.
Next stop: Dinner Plain, 67.1km (1hr 15min)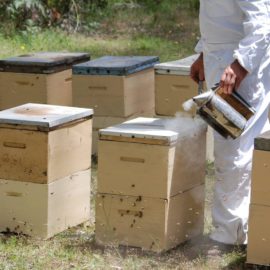 When you talk about bees, you can't go past the honey royalty of the High Country, Jodie and Steve Goldsworthy of Beechworth Honey.