One of Fiona Myers' earliest and most fond memories is of sitting on her father's lap, watching intently as he made his home brew. 
Perhaps it's no surprise that 50-odd years later Fiona brews her own beer at Rutherglen Brewery, with people coming from far and wide to sample it!
In an industry predominantly ruled by men, Fiona admittedly gets a kick out of revealing that she, in fact, is the brewer.
"It's hilarious," she said.
"It's often the older males that will go 'oh - you made it?' or 'who's your brewer? What's his name?' Often people are very pleasantly surprised!"
Fiona and her partner Gavin Swalwell both have a passion for beer but it was Fiona who decided to take on the challenge of brewer. With no more than two weeks training and a lot of confidence, she boldly stepped into the world of brewing and hasn't looked back.
"It's been a year now," she said.
"I'm not professionally trained but the beers are coming out very well and being very well accepted. The popularity almost happened instantaneously from me taking over the brewing, it just went nuts! Maybe it was the hype around me being a girl? We've had local IGA's and liquor stores all over Australia coming and wanting the beer, but we're not interested in doing that, we want to stay small. We're purists, we have our own market garden and grow all our own veggies, we're making all our own provedore items so pastas, sauces, oils and that sort of thing - everything from scratch. That's why we have a brewery."
Whilst there may be some hype around being a female brewer in the High Country, Fiona insists it's all external. For her, being a woman never posed barriers or shaped what she wanted to do, and she encourages others to take the same stance.
"I tend to not look at roles as being either male or female," she said.
"I've always been brought up that way - that a girl can do whatever a boy can do - hence, I used to run one of the most respected weed control and plantation maintenance businesses in North East Victoria - that was a man's world as well."
Fiona is one of a growing number of women in the industry making a concerted effort to lead by example when it comes to women in beer.
"There's a great organisation called the Pink Boots Society that are supportive of all female brewers and really working at educating people that you can do this - you can break out of the mould of what a female is and isn't supposed to be," she said.
"I'm lucky I never had that mould, I was never put in that box, I've always been very 'I can do anything! Don't tell me I can't do that, because I will!' 
"That's what I would love for everyone - to be that free that you can do whatever it is that you want to do. I came into brewing at 52 years of age and now people are loving my beer. That makes me so proud and fulfils me on so many levels."
If you're eager to see for yourself what all the hype is about, head to Rutherglen and quench your curiosity.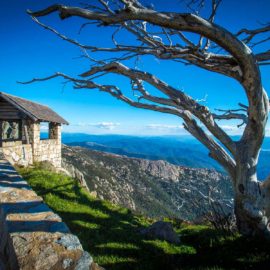 Pair these knockout views with our finest produce, and you're in for one memorable picnic experience.