At the heart and soul of every delicious High Country menu is exceptional local produce. When you combine talented and passionate producers with wonderfully fertile and diverse land, magic happens. All throughout the year, you'll be treated to the season's best, straight from the patch, into your basket.
Plan your next trip to the North East to coincide with a visit to one of our Farmers' Markets. You'll find markets operating on any given weekend throughout the year.
One of the best things about the High Country is the four very different seasons, which bring sensational seasonal goodies.
Sticky sweet and most definitely the taste of Summer, strawberries, alpine raspberries and cherries are abundant during the warmer months of the year.
Autumn is not only one of the most colourful and beautiful times of the year, with it comes some much-anticipated produce. With the higher altitudes and therefore cooler climate, the region produces some of the country's best apples, chestnuts and autumnal berries.
Alongside the freshest seasonal fruit and vegetables, you can also fill your basket with a locally grown bounty.  Pressed olive oil, lovingly baked sourdoughs and sweet treats, and meat and eggs from locally raised and pastured animals, farmed with respect and care and sold by the hands that reared them.
Taste the essence of the High Country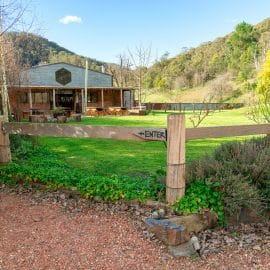 Billson's Brewery and Mitta Mitta Brewing Co. have officially joined the High Country Brewery Trail! The newcomers bring fresh, new perspectives on beer, fantastic (and very different) venues and a swag of delicious beers to try. For those with a passion for history, Billson's will surely satisfy and those interested in finding that 'taste of place,' Mitta Mitta is your next stop.