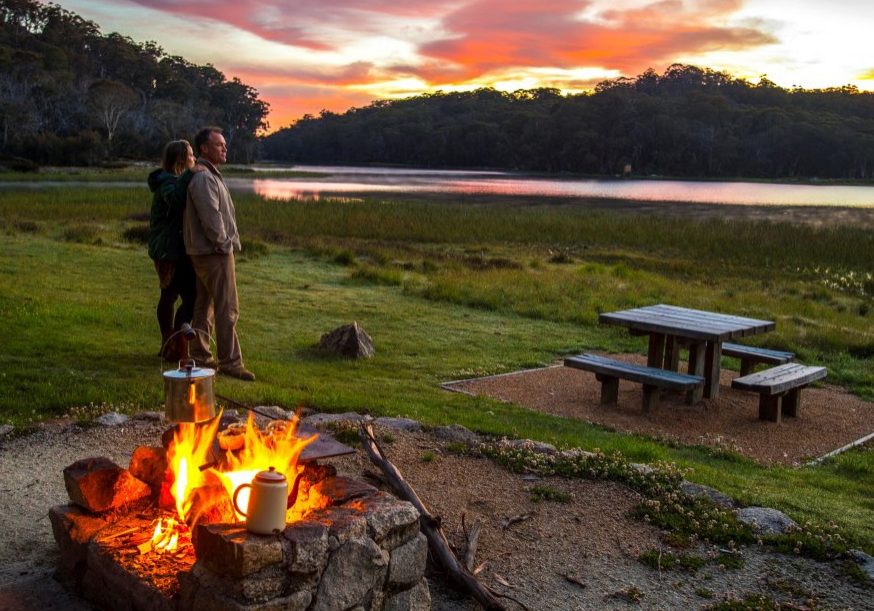 Mount Buffalo National Park is 325 kilometres, a four hour drive north from Melbourne. It features over 90km of walking tracks, panoramic scenery and tumbling waterfalls, and can be enjoyed all year round. In summer, wildflowers are plentiful and the park is a cool retreat from the heat of the lowlands. In winter, the park is ideal for cross-country skiing and also offers safe and accessible tobogganing and snow play areas, providing great fun for the whole family.
Mount Buffalo is a National Park and respectful and safe visitor conduct is required at all times. By following the below guidelines, you will ensure the Park is left the way you found it and can be enjoyed for visitors for many years to come. For more information please contact Parks Victoria on 13 19 63 or www.parks.vic.gov.au.
Be self-sufficient with drinking water. Carry it in and/or know how to make untreated water safe for drinking.
Keep to designated tracks, alway keep a map in hand and make sure you've let others know you movements before setting off.
Snow chains must be carried on all days as indicated by the signage at the Entrance Station. This applies to all classes of vehicles, including four wheel drives. They must be fitted when and at the location indicated by road signage. Failure to do so endangers you and your family. Penalties apply.
Drive carefully on the winding roads, especially in snow or icy conditions and watch for wildlife.
Take care near lookouts and waterfalls. There are steep slopes and sheer drops.
Make sure you have appropriate clothing and equipment for winter visits and to allow for sudden weather changes. The weather can be severe at any time of the year.
Andersons Peak Track has limited markings and definition. The track may be difficult to find and independent navigation is essential.
Don't feed wildlife. There has been an increase in dingo sightings on the plateau. Judging by their inhibition around visitors it is likely that visitors feeding or offering food to them. Visitors are asked to enjoy their presence from a distance and to not feed or offer food to any wildlife
Groomed trails for skiers only. Walking on groomed ski trails punches holes into the trail surface, making it difficult for skiers to swoosh along and makes the snow melt faster.
When off-track walking, beware of hidden creeks. Stay on marked pedestrian tracks and don't be tempted to take a short-cut from the car park to the toboggan slope as the snow cleverly conceals creeks and wet areas.
There is no fuel availbale on Mount Buffalo. Porepunkah is the nearest fuel station to the mountain.
Telstra provides good phone coverage for Telstra customers at Dingo Dell and most other visitor areas on the mountain. Other phone service providers do not service Mount Buffalo. Upgraded phone communications are planned at Cresta, which is a known mobile phone black-spot.
Snow clearing and snow chains
Vic Roads manage the Mount Buffalo Tourist Road so they will again be managing the snow clearing and chain fitting this year. As always after a big snow fall the first priority for the crews will be to clear to Dingo Dell, when that is safe and clear they will proceed to clear to Cresta and finally to the Chalet car park.
Carrying Snow Chains. The requirement to carry snow chains is assessed on a daily basis by staff at Mount Buffalo. When it is identified that there will be an extended period of fine weather, that will not produce icy or snowy road conditions, the requirement to carry changes will be revoked. This will be communicated via signage at the entrance to the park as well as by the email sent out every morning. When staff assess there is a weather change that will affect the requirement to carry chains an additional email will be sent out at 4pm, notifying the change for the following day.
This park has been assessed to have a high level of bushfire risk and will be closed for public safety on days of Code Red Fire Danger Rating.
On days of Code Red Fire Danger parks and forests are not safe places to be. For your own safety, do not enter parks or forests and if you are already there you should leave the night before or early in the morning.
For more information on the location of parks within Bureau of Meteorology forecast districts and closures on days of forecast Code Red Fire Danger Rating, click here.
Fires (including barbecues) must not be lit on days of Total Fire Ban. For more information about Total Bans visit the CFA website.
All the plants and animals in the park are protected, please leave the park as you found it.
Please do not feed the wildlife, they have plenty of food around!
For the safety of native animals, dogs and other pets are not permitted.
Light fires only in the fireplaces provided. Where possible, use a portable gas or fuel stove. Learn more about campfire safety here.
Firearms are not permitted.
Dispose of soap and detergent at least 50m from waterways, the fish aren't big fans of the bubbles.