If you haven't visited a Farmer's Market for a while, the Christmas markets are absolutely the time to start!
Wandering the stalls is a gift for all the senses, with friendly faces selling a myriad of carefully crafted, locally grown seasonal delights bound to make your Christmas spread one to remember.
For the Aussie Christmas, strawberries, alpine raspberries and cherries are abundant - perfect for drinks, starters, desserts and festive decoration.
Alongside the freshest seasonal fruit and vegetables, you can also fill your basket with pressed olive oil, warm and fragrant sourdoughs, delicate sweet treats, and meat and eggs from locally raised and pastured animals farmed with respect and care and sold by the hands that reared them.
'Tis the season!
December Farmers' Markets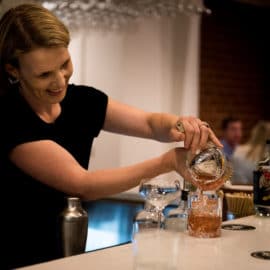 Hamish Nugent and partner Rachel Reed are the brains and brut behind Bright's Reed & Co Distillery.