"Ahh the gluten free chocolate mud cake - Jay made that one and won my heart. He made it for our wedding cake, so it's pretty special and everyone loves it."
- Sharan Rivett
Ingredients:
300g chocolate

250g butter

6 egg yolks

120g pumpkin seed flour (or any Australian Pumpkin Seed Company nut flour)

175g sugar

5g muscat (or port)

6 egg whites

75g sugar
Instructions:
Prepare cake tins, turn oven on to 150ºc.

Melt Chocolate and butter in a double boiler then let cool to a warm temperature.

Combine egg yolks, 175g sugar and seed or nut flour, then add to cooled chocolate butter, mix. At this point add the muscat.

Whisk egg whites to soft peak and add 75g sugar.

Fold whites into the chocolate mix gently.

Scale batter into tins and bake for around 120 minutes at 150ºC. Check cake with a knife - when clean it is ready. (The cake may need to cook longer if you use a different size tin, just make sure the testing knife comes out clean and it will be ready).

Cool cake in the pans for ten minutes then unmould onto sheet dusted with icing sugar.

For an 8" round tin approx. 120min baking time.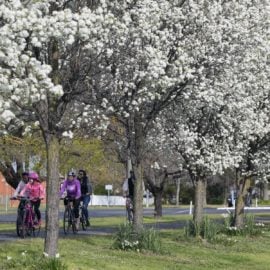 Easy cycle tours for all ages and abilities that give you views as delicious as their stops!