A good wine exploration - be it through meeting the people behind the wine, accompanying it with expertly matched food, or experimenting with it first hand - nourishes both the mind and the palate. That, our wine connoisseur friends, is exactly what you can expect from these 10 unique wine experiences. Additionally, you can expect refreshing variety, as the High Country wine regions and catchments they cover are as diverse as the experiences themselves...
The Broken River's granite foothills enjoy markedly different soil types, elevations, rainfall and water sources, making for bold and intriguing differences in wines of the same variety.
Further north, the microclimates of the King Valley produce one of the greatest concentrations of varieties of any wine region in the country, with Prosecco and Sangiovese having beaten the path for Italian varieties in Australia.
The Alpine Valleys - known as one of Australia's most elevated wine districts, features climatic conditions making for a long, moderate growing period producing grapes with intense flavour and natural acidity.
North-west from here you're met with small, family vineyards dotting the hills of Beechworth and posing a worthy challenge to vignerons with weathered ground and meagre soils limiting grape yield but producing concentrated, intense wines.
Finally, the world famous long, dry Autumns of Rutherglen are the key component in creating some of the best fortifieds and big reds in the world.
No matter your wine predilections, knowledge or company, there's an experience below sure to ignite anyone's passion for wine.
Wine lovers - your exclusive experiences await!
Just over 20 years ago, Otto Dal Zotto and his boys, Michael and Christian, planted Australia's first Prosecco vines. Flash forward and it's easy to see how Dal Zotto paved the way for Italian varietals, but there's so much more to the story...
Join the Dal Zotto family in an exclusive, end to end experience that will not only show you the journey of l'immigrante wines, but the culture and values behind their innovation.
It's the Rolls Royce of wine experiences, literally.
This luxury weekend will see you chauffeured via a 1973 Rolls Royce Cornish, accommodated in an opulent tower (circa 1891) and eating at a Chef's Hat restaurant. Yes, the All Saints Estate Luxury Immersion has all the bells and whistles, but make no mistake - between a precisely matched wine lunch and a blending day with winemaker Nick Brown himself, this is one for those with a serious wine passion.
It's not everyday a small, family owned winery encourages you to participate in a wine comparison between famous European benchmark wines and their own creations. Then again, its easy to forget Rutherglen is a world-renowned wine region itself - we're sure they can hold their own!
For those with a taste for Sangiovese, this adventurous and candid exploration is sure to captivate your palate.
Muscat isn't really like any other wine. Those who know it understand it bears the marks of generations of caretakers - an ever persistent child, growing, changing and maturing at a pace constantly wrestled between the Muscat itself and its loyal custodian.
The Pfeiffer family invite you to get up close and personal with this unique wine - see its home in the century old barrel room, syphon it straight from the barrel and work with it in a guided blending session.
For those truly passionate about wine, the feeling of 'striking gold' when visiting a humble, hidden winery is almost addictive. In this case, you're bound to find gold - but you'll have to go underground to get it!
Baarmutha Wines' Vinny Webb will host you from start to finish in this fascinating 'pre-dinner' vintage comparison experience, exploring Shiraz or the famous Beechworth Chardonnay.
It's no secret Durif is a flagship wine of the world famous Rutherglen wine region. It's big, bold and, traditionally, not to be 'messed with,' but winemaker Rowly Milhinch of Scion Vineyard is so enamoured with the variety he simply had to explore its outer reaches!
Personally guided by Rowly himself, you'll make your way through a flight of contrasting and distinctive Durifs, including two world firsts - a rosé and a fortified.
For those with a penchant for cool climate wines and an eagerness to understand the land and cultures they come from, Best of Alpine Valleys Escape will more than satisfy.
Whilst staying at the stunning, architecturally designed Kilnhouses, you'll visit an award-winning vineyard not open to the public, taste and tour your way through a matched gin dinner and savour a generous produce/ wine hamper throughout your stay.
There's drinking wine, then there's wine appreciation. Wine appreciation comes when one knows the intricacies of a wine - the soil it grew from, the circumstances surrounding its vintage, guiding principals and techniques, the list goes on.
At Ringer Reef Winery, everything is done onsite by the family - no question can be unanswered - which is why this cool climate wine experience is sure to leave your mind and palate more than satisfied.
Saffron Gramophone Wines, Baddaginnie Run, Swanpool Creek Wines and Kooyonga Creek Winery are all part of the same catchment, but the terroir enjoyed by each differs markedly in soil type, elevation, rainfall and water source. The diversity between these wines is something to explore, though few ever have...
You're invited to travel the wineries along the Broken River, for the very first time. Many of these gems have never seen the public - a rare and revered experience for the discerning wine connoisseur.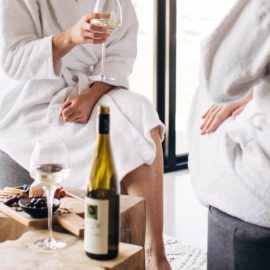 These spas make the most of their location, offering specifically tailored, seasonal food and wines.